26/11: SC suspends Kasab's execution
His petition for detailed hearing admitted
Disposing of appeal 'expeditiously' top priority
R Sedhuraman
Legal Correspondent
New Delhi, October 10
The Supreme Court today suspended the execution of Ajmal Kasab, the LeT terrorist involved in the attack on Mumbai, after acknowledging that public sentiment was clearly against entertaining his appeal challenging his death sentence.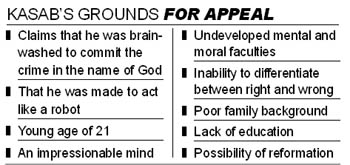 Admitting Kasab's appeal for a detailed hearing, a Bench comprising Justices Aftab Alam and CK Prasad explained that this was necessary under the existing legal system irrespective of the fact that the judges and the advocates dealing with such cases had to incur the displeasure of people at large.
As a result of today's order, Kasab's hanging would depend on the SC ruling on his appeal. Kasab was the only Pakistani terrorist who could be captured alive as nine of his fellow LeT operatives were killed in the anti-terror operation.
As many as 166 people were killed in the terror attack. A trial court in Mumbai had given him death penalty on May 6, 2010, which was confirmed by the Bombay High Court on February 21 this year.
The special Bench began hearing the case by putting a question to senior counsel Raju Ramachandran, appointed as Amicus Curiae to assist the court: "Does your man (Kasab) deserve it? Many people think he doesn't."
The amicus also accepted that the popular view was against giving an opportunity to Kasab for challenging the death penalty. "Many people may think. But the due process of law requires it," he reasoned.
Justice Alam went on to explain that the judicial system might not be perfect, but "God knows we do our best to maintain the rule of law. At times, we have to suffer. That is the price we pay for maintaining the supremacy of law."