M A I N N E W S
New telecom policy aims at free roaming, full mobile portability
Girja Shankar Kaura
Tribune News Service
New Delhi, October 10
Seeking to make a telecom subscriber the "ultimate ruler", Telecommunications Minister Kapil Sibal on Monday unveiled the draft National Telecom Policy (NTP) 2011 that not only seeks to give the consumer the right to free roaming within the country but also seeks to increase the country's teledensity to 100 per cent by 2020 and bring about transparency in spectrum allocation.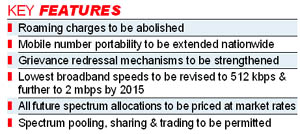 The new policy also proposes to introduce a stronger customer grievance redressal mechanism and recognise telecom as an infrastructure sector, which will help ease credit flow to companies for funding rollout plans or expansion activities.
According to the draft, there will be a one-nation, one-licence policy. Also, the government wants to implement full number portability and allow sharing of networks. The government also plans to increase the availability of spectrum.
The policy in its final form is expected to be announced by December.
Unveiling the draft policy, Sibal said it was designed to ensure India played this role effectively and transforms the socio-economic scenario through accelerated equitable and inclusive economic growth by laying special emphasis on providing affordable and quality telecommunications services in rural and remote areas.
The draft telecom policy comes in the wake of the 2008 spectrum allocation scam allegedly by then telecom minister A Raja which, according to the Comptroller & Auditor General, the country's top audit body, cost the country exchequer a loss of Rs 1.76 lakh crore.
According to the draft policy, which would hurt the revenues of the country's telecom companies, mobile phone subscribers would be able to avail free roaming and keep their phone numbers even if they switch service providers anywhere in the country. Telecom operators earn as much as 10 per cent of their revenue at present from the roaming charges which they charge from their subscribers.
Sibal, however, refused to give any timeline for the implementation of this policy and said it would be implemented gradually. Telecom operators would not require separate licences for operations and related services in various parts of the country and a single licence would suffice. However, while launching any new service, the licence holder would have to give the government fee as applicable then for the starting of that particular service.
"We'll seek TRAI's recommendations on new licences, migration to new licences and exit policy," Sibal said.
The minister, while announcing the unveiling of the new telecom policy last January, had specified that in the new policy the spectrum allocation would be delinked from licences and radiowaves would be made available at market-determined prices.
Spectrum, as per the licences issued earlier, had been provided free to the holders while paying just the licence fee. Cellular service providers would also benefit from the policy as it proposes to allow companies to pool, share and later trade spectrum - a scarce resource.