fauja singh
local 'lad' first centenarian to run Marathon
Kusum Arora
Tribune News Service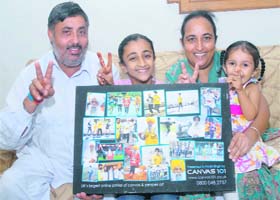 Harwinder Singh, son of Fauja Singh, with his family in a jubilant mood at their ancentral house in Beas Pind in Jalandhar on Sunday. Tribune photo: Malkiat Singh
Jalandhar, October 17
At a sports event held in the city, world's oldest half-marathon runner Fauja Singh had expressed his desire of breaking the record of a 98-year-old UK resident in the marathon history. And he broke the record!
On October 16, 100-year-old Fauja Singh became the first centenarian to complete the Toronto Waterfront Marathon in 8:25:16 (8 hours, 25 minutes and 16 seconds) leaving many young competitors behind.
A British citizen, Fauja Singh, first entered the record books when in 2003 he finished the Toronto race in 5:40:1 (5 hours, 40 minutes and 1 second). The successful attempt of the centenarian became world news, while his family back home in Beas Pind in Jalandhar remained busy receiving congratulatory calls.
Talking to Jalandhar Tribune, Harwinder Singh, son of Fauja Singh, who owns a huge agricultural land in the village, said he was yet to talk to his father after hif feat at the marathon. "I spoke to my brother, Sukhjinder Singh, with whom my father is residing in Illford (London), and inquired about his health. As he is 100 years' old, we remain concerned about his health, but he in turn always speaks about his passion for running," he added.
Harwinder is residing in a huge palatial house in Beas Pind along with his wife Bhanjit Kaur and two small daughters. "Even when he is here in India, he starts his day early in the morning at 4 am and by the time we are awake at 8 am, he has almost completed all his major works. He prefers walking and ensure that he meet his old pals in the fields early in the morning. We feel amazed at the level of his will power and zeal to run at this age," he added.
But, not many people know that how and why Fauja Singh took to running, which in itself would teach many people about how to deal with the sorrows of life. "It was the death of one of my brother, Kuldeep Singh, in the prime of his youth, which shook him (Fauja Singh) badly. He died all of sudden in 1994 after he fell from the roof of an under-construction building. After that incident he (Fauja Singh) started remaining aloof as he was very much attached with Kuldeep", Harwinder said.
The family added that this was the time when, Fauja Singh migrated to London along with my brother Sukhjinder Singh. "There he joined Harmander Singh, his trainer in London, who changed his life forever. Running gave him a way out to divert his attention or probably pacify his emotions. He wanted a way out and probably running was the answer to it," he stated.
Now, Fauja Singh's family is looking forward to his return to his village in December. Bhanjit Kaur, the daughter-in-law of the centenarian, said once Diwali was over she would start making his mandatory "desi Punjabi diet - alsi di pinni and panjiri". "He is a complete vegetarian and his regimen begins with alsi di pinni, panjiri, curd and just two chappati a day. In fact he never run short of these eatables," she said.
Even the granddaughters of Fauja Singh, namely Avneet Kaur and Japneet Kaur, were elated too. The youngest of them, Japneet, who is yet to learn how to speak properly, also showed a victory sign and pointed towards his picture stating, "Main Baba ji di poti ha ( I am the granddaughter of my grandfather)," with a big smile on her face.