ART & LITERATURE

'ART & SOUL
ENTERTAINMENT

TELEVISION

GARDEN LIFE

NATURE

FOOD TALK

CONSUMER, BEWARE!

FASHION

GLOBOSCOPE

BRIDGE

ULTA-PULTA
EARLIER FEATURE

TRAVEL

RELATIONSHIPS

DREAM THEME

TIME OFF
Ayodhya is not where the action is
While for the rest of the world Deepawali marks Lord Ram's return to Ayodhya, this city itself celebrates Chhoti Diwali, the birth anniversary of Lord Hanuman, with far greater gaiety, reports Shahira Naim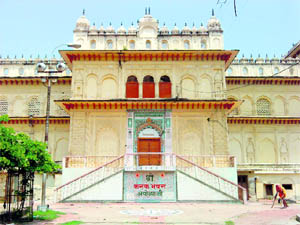 As long as eminent jurist L. M. Singhvi was alive, he first greeted the present-day Raja of Ayodhya, Vimlendra Mohan Pratap Mishra, on Deepawali before he wished anyone else, reveals poet-prince of Ayodhya Yatinder Mishra, reclining on the sofa of his majestic Rajsadan baithak. It was hundreds of years ago that another prince of Ayodhya had returned from a 14-year exile, which had concluded with a decisive victory over the then King of Lanka.

Kanak Bhavan is a major attraction of Ayodhya

Leading lights
Though the death of some Bollywood stalwarts has cast a shadow on the festival of lights this season, stars share plans for spreading cheer, going green and more, writes Jyothi Venkatesh
Revelry in time of new release
Shah Rukh Khan
Any film that is released during Diwali gets a big fillip because of the timing — you get a 10 per cent increase in business. Ra.One could also have come post-exams, as a summer release, but since any film coming around Diwali has an advantage, it's been timed with this festival. So, if you want your festivities to start on a high note, go see Ra.One, as it's a happy film.
FESTIVAL FAD
Shoma A. Chatterji
Go Green this Diwali. This has become the flavour of the season over the past several years across the board among NGOs, the media, social programmes, clubs and even the youth. But is it a temporary fad among the youngsters, a fashion statement of its kind? Or is it a commitment born out of a mission to save not only the environment but also the lives of all living beings?
Worshipping Kartikeya
The younger brother of Lord Ganesha is welcomed fondly by the women in West Bengal's red light areas, who, they hope, will emancipate them, writes Annam Suresh
The bright red sari with chamki all over is set off by the sharply contrasted parrot green choli with heavy mirror work. The cheap imitation jewellery and glass bangles jangle in rhythm with silver anklets as her feet tap in gay abandon. Her kajal runs in streaks down her cheeks caked with powder and cheap rouge. She looks gaudy, she looks crass, she looks the harlot she is. But today, she looks happy, carefree.
Sweet alert
Diwali cheer rings diabetes alarm for Indians, says David Lalmalsawma
It's festival season in India, with the celebrations providing a perfect opportunity for family outings, late-night parties and customary feasting on sweets. But health experts warn that the festivities, coupled with genetic predisposition and lifestyle changes brought about by the increasing prosperity of the middle class, is contributing to the country being called the world's "diabetes capital," with the highest number of diabetics in any nation.
Faith and festivity
Diwali stands out as a symbol of religious and communal harmony. Sikhs and Hindus have been jointly celebrating the festival for centuries, writes Varinder Singh
The mere thought of Diwali sparks myriad sparkling perceptions and thoughts about loads of illumination and sweets as it is a festival of a beautiful combination of joy, hope, commitment, coherence, harmony and that of shimmering lights.
From Lakshmi with love
The festival of lights means decorating houses with diyas and bursting firecrackers all night. Pujas are performed to invoke the blessings of Goddess Lakshmi, says Lakshman Patel
For most of us, Diwali means a festival of lights – of decorating houses with rows of lamps (hence Deepawali) and bursting firecrackers all night. There would be goodies at home, new clothes, pujas and rituals to invoke the blessings of goddess Lakshmi`85 and so on.
Decorations up for grabs
As India gets ready to celebrate the festival of lights, the market is flooded with the latest Diwali artworks that you can choose to make this festive season a special one, reports Supriyo Hazra
Diwali is not simply an occasion where it all ends with the worshipping of the deity or with fireworks, it can be called a festival that brings life to millions who eagerly wait for this one day of merrymaking. Households gear up to buy the best decorations and products that promise`A0to make the festival a memorable one.
Festival of gods
Dev Deepawali is a unique spectacle held on the ghats of Varanasi during Kartik Purnima, which is held on the 15th day after Diwali, writes Shahira Naim
It is a breathtaking scene, as innumerable earthen lamps float away on River Ganga. The ghats of Varanasi come alive with thousands of shimmering diyas. This is a unique tribute by the people of the city to the holiest of rivers on the occasion of Kartik Purnima, which is celebrated in the city as Dev Deepawali.
Sci-fi, comedy, drama to sizzle screens
The festival of lights will see a 3-D superhero (Ra.One), a philandering husband (Damadamm!) and a daughter in search of her father (Tell Me O Kkhuda) in theatres. Deepa Karmalkar predicts boxoffice results this festive season
Conventionally Diwali is regarded as the most auspicious time for a film release by the Hindi film industry. "That's the time when people get their bonus, they are in a mood to spend a lot of money and take their families for outings. An ideal time for a film release," indicates Udaya Tara Nayar, veteran entertainment journalist.
John in action
Shoma A. Chatterji checks out with John Abraham, about his latest film, Force, which got him the highest opening of his career
John Abraham's Force has received a good opening at the boxoffice worldwide with the film's collection in the first week hitting Rs 22 crore, including Rs 16 crore from India.