Duty first, celebrations take backseat
No festival is fun without family and friends. And when it's Diwali, who wants to be at work and miss all the fun, including puja, lighting diyaas, bursting crackers, sharing all goodies with the loved ones. But there will be many professionals from essential services such as doctors, nurses, firemen, policemen and others in the city who will be deprived of this joy and will be at their workplace on Diwali night
GS Paul
Tribune News Service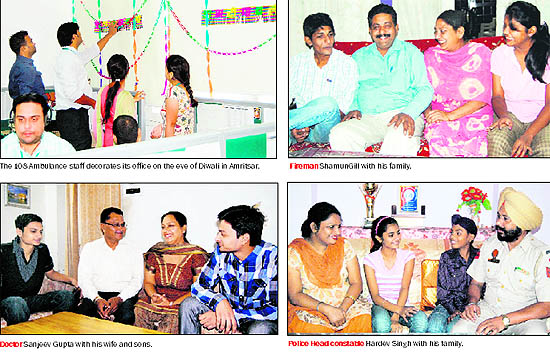 Amritsar, October 25
When residents of the holy city will celebrate the festival of lights with their families and friends on Wednesday, doctors, firemen, ambulance staff and police personnel will work round-the-clock to ensure safe Diwali for them.
The Tribune team talked to professionals, who will be on duty on Diwali and will celebrate the festival away from their families.
108 Ambulance Service
It will be the first Diwali for the 108 ambulance squad as the wing was established this year only. They have planned to celebrate the occasion in the office and have tastefully decorated their office on the Circular Road in the city. They have also made arrangements for performing a special Diwali puja and thereafter have plans to burst crackers. On Diwali, 70 call dispatch centre (CDC) executives will be on an eight-hour duty on roster basis.
State head of the 108 ambulance service Jatinder Sharma said: "Our two emergency medical technicians and two pilots will be on their toes. The fleet of 233 ambulances will be ready as per the routine schedule of the 12-hour roster pattern. Besides, our administrative staff of 25 people, including me, would be just a call away any time.
Vikram, who will be on duty in the control room, said: "We are proud to serve the suffering humanity." The driver of an ambulance, Gurcharan Singh, said he was always happy to sacrifice the fun of festivals for the sake of suffering humanity.
Firemen
Fireman Shmaun Gill has not celebrated Diwali with his family since his appointment in the fire department 29 years ago. His wife Venus Gill said: "As it has been a routine for the past many years, we don't find it awkward."
"Our job is to ensure the safety of residents and public property during Diwali. Sometimes we feel sad that we could not remain with our family during festivals, including Diwali, but what can we do. Duty comes first."
Fire officer Trilochan Singh said that in his 33-year career, he never celebrated Diwali with family at home. "My children are living abroad and my wife alone at home. Due to professional compulsions, we never get together even on Diwali. A notice has been circulated in the office against taking leave three days before Diwali and two days after the festival. Our teams will be on job round-the-clock. The staff is also putting in extra hours to deal with any untoward incident in the city and the adjoining Tarn Taran district," said Trilochan Singh.
Doctors
Dr Sanjeev Gupta, who would be in the Civil Hospital on the emergency duty during late hours on Diwali, feels that his professional oath commands him to perform his duty first. His wife, Shifali Gupta, said: "The joy would have been much more had my husband been able to celebrate the festival with us, but we know his job demands that he should be at his working place."
His son Akshit Gupta, a class X student said his elder brother, Rishabh Gupta, pursuing aeronautical engineering in Dehradun, has come home to celebrate Diwali, but understands about his father's professional commitments.
Dr Sanjeev Gupta said: "There is no question of celebrating when we have so many patients lined up for treatment on Diwali. It's our job to treat the patients and that is Diwali for us."
Dr Manjit Singh Khalsa, a surgeon, too will be on duty during late hours on Diwali. His wife Paramjit Kaur, daughters Supreet Kaur and Preet Kanwar, would miss him, but looking at the job profile of their father, they were ready to sacrifice his company. Dr Khalsa said: "The scene in the hospitals are so heartrending that we consider ourselves lucky to just skip a day of celebrations with our families. At least we celebrate the festival with our colleagues. Just think about the patients who are completely bedridden," he said.
Policemen
Head constable Hardev Singh does not remember a single instance when he was with his family to celebrate Diwali. "I had joined the police department in 1997 and since then I have not celebrated Diwali with my family. Duty is supreme. Our duty becomes more significant during the festive season when there are more chances of untoward incidents," he said.
His wife Ranjit Kaur said: "I don't expect him to be on any such occasion now, as it has been a routine over the past many years. But still, I expect him to join us after midnight after his duty is over.
Emergency numbers
n Fire: 101
n Town Hall: 0183-2557366, Gilwali Gate 0183-2527000, Civil Lines 0183-2566212 and Beri Gate: 2551699.
n Other numbers: Town Hall: Sadiq Masih 9815979045; Gilwali Gate: Anoop Singh 9779657435; Civil Lines: Shamaoun Gill 9876026175; Beri Gate: Madan Lal 9646550909.
n Alternative numbers for 108 Ambulance: 7307475522 (not toll free) and 0183- 5055255
n Police Control Room: 100, 0183-2225054, 2225056, 9781130666
n Medical assistance: Guru Nanak Dev Hospital: 0183- 2422560, 0183-2573928, 0183-2422345, Guru Ram Das Hospital: 0183-2553668, SGTB Hospital: 0183-2563170, 222173; Blood Bank GNDH: 0183-2400937.