PUNJAB

HARYANA

JAMMU & KASHMIR

HIMACHAL

REGIONAL BRIEFS

NATION

OPINIONS

LETTERS

BUSINESS

SPORTS

WORLD


M A I N N E W S

Special to the tribune


Tandoori time: UK clay ovens delight buyers in India
Shyam Bhatia in London

No desi stuff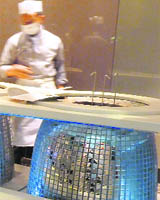 n The London-based Clay Oven Company claims it has sold its products across India, with Delhi being the main market.
n According to the company, the 'Shahi Tandoor' and 'Shahi Mosaic' ovens are made of special British clay and unlike India-made ovens, they need not be re-lined every few months
Like selling the proverbial coal to Newcastle or Scotch whisky to Scotland, an English company is exporting UK-made tandoori clay ovens to India.
The Oberoi and Taj groups, as well as sundry buyers in Punjab and Haryana, are all delighted customers of the Clay Oven Company, which is based in London. The company claims it has seen an 80% increase in the number of 'Shahi Tandoor' and 'Shahi Mosaic' ovens sold to customers in India.
Company director Dr Levon Gulian, "We've sold our products across India, but the Capital, Delhi, is our main market. We've been selling for some years but now its really picking up. I've been out to India twice myself and it's a massive emerging market."
Levon (27), who qualified as a doctor from University College, London, says: "I do the odd locum to keep up and I'm registered as a Senior Practice Officer, but we're so busy that business is increasingly taking priority."
The business started more than 20 years ago when Levon's Palestinian architect father, Shahi, was visiting an Indian restaurant in London. "It was in the early 70s", says Levon. "My father was at the restaurant and they were all excited, waiting for the oven to arrive from India. When it did arrive, we saw it was smashed. But my father told the owner, "I can supply you with one". And we built the first model in our garage," he adds.
According to Levon, the secret of the company's success is the quality of the British clay that is used in making the ovens. It comes from Stoke on Trent, home of the famous Wedgewood pottery brand. The clay, with its lack of impurities, has proven to be more durable and when it is combined with a special formula perfected over decades, it adds up to a perfect mix, explains Levon.
The Levon family could increase profits by moving their operation to China - where manufacturing costs are even lower - but have so far resisted that final indignity. The cost for a standard tandoori oven is £1,000 (around Rs 79,000), whereas a decorated, mosaic style product comes for £5,000 (around Rs 4 lakh).