GRAND MARSHAL
When it comes to motorsports, it does not gather any more élan than Formula 1. As the multi-turbo-charged engines reverberate in India, for the very first time we catch up with the few from Chandigarh who will be in the middle of the sun, speed and sound! Age is really not the criterion for getting in the middle of the craze. Therefore, the age-group spreads across a spectrum.


Fun Formula
When a cricket and Bollywood crazy country shifts its focus to something else, it is a seemingly important thing. And well, it looks like it is - Formula One is the much-talked about thing in the sports and non-sports circuit as of now. Interestingly, it has taken precedence over Shah Rukh Khan's over-hyped, over-marketed Ra One and everything else!




Classic treat
The seventh three-day Brahaspati Sangeet Samaroh organised by Brahaspati Kala Kendra and Research Institute and Sadbhavana Arts commencing on October 28 is all set to regale the classical music and dance lovers of Tricity. Meet the maestros who will light up your evenings:
October 28: Classical Vocalist Gundecha Brothers, from Bhopal




Generation leap
Long branded as a bunch of edgy, angst-ridden underachievers, members of Generation X are actually leading quite active, enriching and happy lives, so says a new study. "They are active in their communities, mainly satisfied with their jobs, and able to balance work, family, and leisure," said study author and political scientist Jon Miller from the University of Michigan (UM). Miller directs the Longitudinal Study of American Youth at the UM Institute for Social Research which includes responses from approximately 4,000 Gen Xers — born between 1961 and 1981.


Face off
A new survey has revealed that almost half of students are worried that personal details they have shared on social networking sites, such as Facebook, as well as elsewhere online, might affect their future career prospects. The survey, carried out by YouGov for the Information Commissioner's Office (ICO), found that four out of 10 students (42 per cent) are concerned that Facebook postings could come back to haunt them in later life.


the 'in' side
So much vanity
A dressing table is an important part of a bedroom. There was a time when home owners would love to have a large dressing table. Although the focus has now shifted to many other furniture items, still, dressing tables do have a significant place in a bedroom.
If your room is small, go in for a built in vanity as it will save floor space. Larger rooms can have a free standing dressing table.

MASTER CHEF
Mutton Bafad
Ingredients
1 kg Mutton
5 Madras chilli
5 Kashmiri chilli
1/2 cup Paper corn
1 Jeera seeds
1 tbs Coriander seeds
1 inch Cinnamon
5 Cloves




HEART TALK
It's workable
I am 28-year-old, newly married woman. I stay in a joint family. I want to resume work, but I don't know how to approach the topic. Do you think it would be wise to ask my in- laws about it? I am skeptical about how they would react? I think you should hang on for a while, and then express your desire. Discuss the idea with your husband, and then share it with rest of the members of the family.



Cheating? Not done!
TV star Kendra Wilkinson says her marriage would be over if she ever found out husband Hank Baskett had cheated on her. Wilkinson, 26, could never accept an affair and is adamant if her NFL player husband had a relationship with another woman it would be the end of their marriage. "If the man is emotionally not there in the relationship then he is not going to be there.


first-day-first show
Game for this?
Ra.one is a sci-fi movie based on gaming, bad guys and super-heroes. In the movie, Shahrukh Khan plays the role of a father who is trying hard to 'fit-in' into his son's world; a son trying hard to 'dude-up' his dad. And a mother lost in between her husband and son. While Shekhar tries every trick in the book to woo his son, his son gives up on him.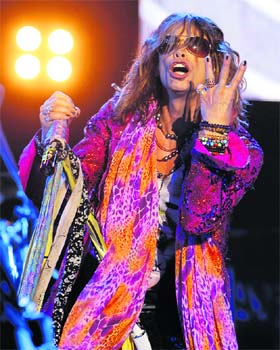 HOT PINK: Steven Tyler, the lead singer of rock band Aerosmith, performs during a concert on the first stop of their Latin America tour at the Jockey Club in Asuncion. Tyler, 63, had to be treated in a local hospital for injuries to his face and teeth after an accident inside his hotel room.— Reuters
Dharmendra gets candid
Dharmendra, the original He-Man of Bollywood, still has a dashing charm about him. At 75, he can still hold the audience with his wit and charm. With his movie Tell Me Oh Khhuda releasing alongside Ra.One, people have raised eyebrows. However, Dharmendra has no issues. "I hope Ra.One does really well. Everyone works to earn in Bollywood so we wish each other the best," says Dharmendra. While speaking of the movie, he says, "Tell Me Oh Khhuda is a sweet story of a girl looking for her father.
Mutual admiration club
Pop star-turned-actor Justin Timberlake has heaped praise on his former Mickey Mouse Club co-star Ryan Gosling saying he's one of the finest young actors in Hollywood. The Cry Me a River hit maker grew up with Gosling and the two cast mates even lived together as their TV careers took off and Timberlake is very proud of his pal's success. "He's unbelievable, I think one of the best actors of our generation... He is working a lot too. It's hard to keep up with him," he said on a TV show.


'Knot' kidding!
Hollywood star Jennifer Aniston has slammed marriage and pregnancy rumours, insisting she's piled on the pounds since she quit smoking. The former Friends star and actor-director Justin Theroux began dating earlier this year and Aniston recently sparked rumours she's engaged and expecting her first child after sporting a ring on her wedding finger and a fuller figure.

Natural instinct
Television actress Shubhangi Atre aka Trishna from the newly launched Colors' show Hawan looks beautiful as she has maintained herself over the years. Mother of one, here she shares some important beauty and hair tips:
Angry young woman
It seems Bipasha Basu gets angry when she is asked about her ex, John Abraham and about the new girl in his life. A journalist faced her wrath recently at a shoot. Bipasha almost threatened to stop shooting but the crew managed to pacify her. We wish her emotions a speedy recovery!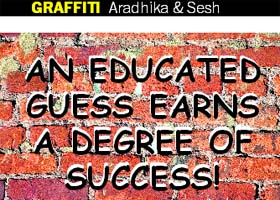 CHATTER BOX

Out of the league
Sonu Sood might not be a part of Dabangg 2. He was excellent in the first film but his villainous character is likely to be replaced by famous villain Prakash Raj. Arbaaz Khan is directing the film.

Happy beginning
Ameesha Patel inaugurated her office recently. Neil Nitin Mukesh, David Dhawan and Maanayata Dutt were among the guests. She is also working on her body as she has been cast in Race 2. Good going!

No hang-ups!
Nargid Fakhri might just bag the sequel to Krrishh. Rakesh Roshan is keen on casting her as the antagonist and it is a bold role. Nargis has no qualms with kissing scenes or wearing revealing clothes, so she is an apt choice for the role according to Roshan. She liked the script and is likely to do the film! We think it will be great for her career.

Musical chairs
Vishal Bhardwaj has cast Imran Khan in Matru Ki Bijlee Ka Mandola. Anushka Sharma is the heroine of the film which is a comedy. Shahid Kapur and Ajay Devgn turned down the film in the past. Vishal liked Imran in Delhi Belly and Mere Brother Ki Dulhan, so he cast him.