M A I N N E W S
Missing in rural India: Smiling teachers, child-friendly schools
Aditi Tandon
Tribune News Service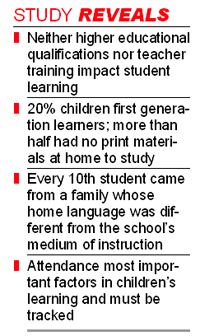 New Delhi, October 29
A new study on learning and teaching outcomes in government schools of rural India has thrown up significant challenges for the Right to Education Act. It has found that in language and Maths, children are at least two grades behind where they should be and though the RTE Act stresses teacher qualifications immensely, neither higher educational qualifications nor teacher training are associated with better student learning. It is the teachers' ability to teach that matters.
Conducted by NGO Pratham which comes out with the Annual Status of Education Report (ASER) and supported by UNICEF and UNESCO, the study tracked 30,000 children in Std 2 and Std 4 in 900 schools spread over Andhra Pradesh, Assam, Himachal Pradesh, Jharkhand, and Rajasthan.
These children were followed for 15 months (2009-2010) and it was found that the concept of age appropriate grade and teaching (which RTE Act emphasises) did not match ground realities. In language and Maths, there were substantial gaps between what textbooks expected of children and what they could do.
"Children's learning levels improve over a year but most children are at least two grades below the level of proficiency assumed by textbooks," finds the study, suggesting urgent revision of textbooks so they start from what children can do.
The study also assessed schools for child friendliness - a concept of the RTE Act. After 850 hours of classroom observation, it found most primary school classrooms were not child friendly at all. Students asked teachers questions in a quarter of all classrooms; students' work was displayed in about a quarter; teachers smile or laugh with students in about one fifth of all classrooms and use local information to make content relevant in about one fifth classrooms.
On the language front, the study found that out of more than 11,500 Standard 2 children tested, less than 30 pc could read simple words. A year later, 40 pc could read words they should have been able to read in Class I.
It finds that children vary in age in one class. "Assuming that children started school in Std 1 at age five or six, one out of every three children in Std 2 is older than expected in the age-appropriate range. This number is higher in Jharkhand and Rajasthan. Among children sampled from Std 4, over 40 per cent are 10 or older."
Also, the children vary in ability, challenging the concept of age appropriate teaching, as mentioned in the Right To Education Act.
"A large majority of children enter each grade unable to cope with what is expected of them in that grade," state the findings released today.