Designs uploaded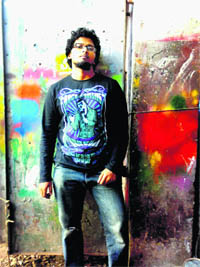 Exclusive designs are no more the preserve of big labels. Small towns like Kannur and Jamshedpur have their own aspiring designers offering globally competitive ideas, all thanks to online design contests
Vandana Shukla
They think of themselves as busy bees, who find their honey buzzing over Google. Inhabitants of the Web jungle, they are the new explorers — a creative force that looks at the world in a distinct way. The odd, the funny, the idiosyncratic catches their eye. And they draw it with a slant, looking askance at the world. Their designs bring a smile, a frown, a sneer on the face of the onlookers and the wearer becomes a target of neighbour's envy!
Sinan Nalagath from Kannur is planning to open a studio in Kerala to make his Naked Monkey a uniquely funny label

Superfoods are a myth
Research has found that hype about miracle foods gives false hopes of curing cancer
More than 10 per cent people believe "superfoods" can prevent cancer, although there is no medical evidence to support it, a new British research has claimed. The new study, carried out by research firm YouGov, found that 11 per cent of Britons think it can prevent cancer and many believe that there are more health benefits to superfoods than eating a balanced diet.
Art in oblivion
Bathinda's Jodhpur Pakhar village, once home to the traditional charkha, now lies in isolation as the youth has shifted to towns in search of gainful employment, writes S P Sharma
Seventyfive-year-old Sant Singh turns nostalgic as he traces the tradition of manufacturing the spinning wheel, the charkha, in his village Jodhpur Pakhar that has, over the years, virtually been pushed into oblivion as there are hardly any buyers of the beautifully-crafted manual spinning machine.
Look sensual in velvet
A velvet dress can make you look like a cinema star. It is ideal for party wear in winters, says Sita Mehta
The winter season is the perfect time to bring out velvet dresses from the back of the closet for all the holiday parties, cocktail parties and family gatherings. Velvet is great because it can be dressed up or down. Wear it with a T-shirt and jeans for an androgynous look, or wear over your red carpet styles to make it sweet and feminine. Velvet is generally chunky; so make sure that yours is well-tailored and cut a little trimmer to create a slim fa`E7ade.
Stories in stone
The huge Pharaonic temples of Abu Simbel have been generating awe since centuries, write Hugh and Colleen Gantzer
We went to Nubia to see a miracle, and were astounded.
In Aswan, Gamel Abdel Nasser's High Dam towered 40 metres out of the fox-pelt dunes of the desert. At its base, the growling complex of hydroelectric generators pumped uninterrupted power into Egypt. On the other side, the great reservoir called Lake Nasser stretched for 500 km into the Nile valley.
Chronicles of catastrophe
Things belonging to victims of Bhopal gas tragedy will be kept in India's first People's Museum being developed in Bhopal, writes Shahnawaz Akhtar
Just four hours before the world's worst industrial disaster took place, Inayat Mohammad had gifted his wife Bano Bee a sari. The 45-year-old man died that very night, perishing in the 1984 Bhopal gas leak. And his widow, now 60, has not worn the sari till date.
Immortalised in wax
Kareena Kapoor has joined the big five at Madam Tussaud's wax museum
The latest actor to join Madam Tussaud's is stunning Kareena Kapoor. With her growing popularity, the world famous wax museum had been flooded with requests to have her among the all-time greats. Finally the museum agreed and asked fans to vote for the kind of look they would like. The unanimous choice was Kareena in her Chameli avatar, where she essayed the role of a street hooker.
'India should have its own superheroes'
Shah Rukh Khan, in conversation with Jyothi Venkatesh about his latest film Ra.One, says that the film will take Indian cinema to new heights
What goaded you to make a film like Ra.One?
I decided to launch Ra.One with myself cast as a superhero only because my children wanted me to play a superman. They used to tell me that I should not just play ladkiyon ko patanewala kind of roles and present myself as a macho hero on screen. I also agreed with them and was happy to step into a physical role like in Ra.One in which I play the role of G.One.
Bearded 007
Daniel Craig will be sporting a beard for his latest Bond flick, Skyfall, making him the first Bond to do so. Compared to the tight blue trunks Craig had to wear in Casino Royale, it must be dream getting used to growing whiskers.