M A I N N E W S
Former CM Madhu Koda assaulted in Ranchi jail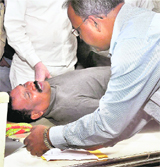 Doctors attend to Jharkhand ex-CM Madhu Koda at RIMS in Ranchi on Monday. — PTI
Ranchi, October 31
Jharkhand's former Chief Minister Madhu Koda was today injured after he was assaulted in a Ranchi jail where he is in judicial custody in connection with a muti-crore scam, but there were conflicting versions on who beat him up.
DC KK Soan said the MP was beaten up by inmates of Birsa Munda Central Jail here, but Koda, who was admitted to Rajendra Institute of Medical Sciences, alleged that the jail staff had attacked him when he went to "check the quality of food".
"Inmates of the upper division ward insisted that he (Koda) eat with the others. When he went there, a couple of prisoners beat him up," Soan said, adding Koda suffered injuries in his hand.
In hospital, Koda, who represents Chaibasa constituency in the Lok Sabha, alleged that the jail administration was behind the incident as he had complained against the quality of food provided to the inmates.
"When I went to check the quality of food, I was attacked by jail staff," Koda said. His former Cabinet colleagues Enos Ekka, Harinarayan Rai, Kamlesh Singh and Bhanu Pratap Sahi are also lodged with him in the same ward of the jail.
Earlier, a senior jail official had said Koda sprained his hand after a fall during a scuffle inside the jail. His wife and MLA Gita Koda said she feared for her husband's life. — PTI