Canine Company
Pampering man's 'exotic' best friend in style
Neha Saini
Tribune News Service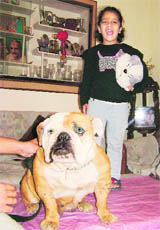 Ridhima has found her best buddy in her Bulldog, Coco, in Amritsar. Tribune photo: Vishal Kumar
Amritsar, November 6
He is going to be there for you whatever the situation is. He will always listen to you. He will keep your secrets and share your happiness. He will be and probably is man's most trusted friend. A dog has always been a bit more than just a domesticated pet. And with time, it has become a status symbol.
The most expensive dog was sold in March this year - a red Tibetan mastiff - purchased by a Chinese multimillionaire for a whooping 1.5 million dollars.
In the world of the well-heeled and well-wheeled, a dog has been more of an accessory than a pet. But for some dog lovers in the holy city, pampering their dogs, who come from the list of the most expensive breeds in the world, is way to make them feel like home.
Hear it from Jeetinder Kaur, a homemaker who made it sure that her love for dogs doesn't come cheap. Having a cockerspaniel and a German shepherd in her home makes it a high maintenance deal.
"But I don't care about that. I love them like my kids. They are a family," says Jeetinder Kaur. The seven-year-old cocker spaniel named Mallika is her favourite. "She is very clever and a bit temperamental. She will eat only if she wants and is conscious about her feed, which is includes a lavish meal like eggs, milk, salad, fruits and chicken. The other one, six-month-old Max, a German shepherd, is docile quite unbelievable for his breed. He is afraid of Mallika since she maintains seniority over him in the house," Jeetinder shares.
She makes sure to provide all the comfort to her dogs. Each one has its own separate room and a full-time servant. Their accessories are elaborate too with shampoos, conditioners and grooming products. "Mallika has recently given birth to a golden and white pup, which is one-of-its-kind cocker spaniel in the city," shares Jeetinder.
Vikas Mehra, a businessman from the city, too makes sure his pal, Coco, a six-year-old British bulldog enjoys a good life. A gift from a friend from the UK, Coco can't stand the heat of Amritsar. "He sleeps with me in my room with an AC. His diet too is taken care off as he like eggs and chicken," says Vikas. Everything has to kept updated for Coco right from his clothes to his bedding and his shampoos. Living in a joint family, Vikas's two kids are in love with their companion. "Bulldogs are usually considered a ferocious breed, but with Coco we never have to worry. He plays with our kids and everybody is fond of him," says Vikas.
Just like Vikas, Ajay Mahajan, also a businessman, bought dogs for his kids. "I had read somewhere that kids who grow up with puppies or dogs around them are stronger and develop more immunity from others," he explains. Whether fact or fiction, this piece of information made him add four pugs and a Labrador to his family 10 years ago. "They are very calm. But you have to take a lot of care of their hair and eyes," he says. Their upkeep is not a problem for Ajay as he has assigned a servant who takes care of the bunch.