Women's Kabaddi world cup Starts today
Guru Nanak Dev Stadium to script a new chapter
GS Paul
Tribune News Service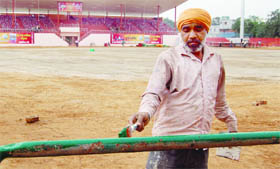 A worker gives finishing touches to Guru Nanak Dev Stadium in Amritsar on Thursday. Tribune photo: Vishal Kumar
Amritsar, November 10
Come 11.11.11 (November 11), a history of sort would be created at Guru Nanak Dev Stadium with the debut of women's Kabaddi World Cup. In the inaugural match, the Indian women's team would take on Turkmenistan women's team at 6.30 pm.
Apart from this tie, there would be three matches under men's category (Argentina vs Sri Lanka, Pakistan vs Norway and America vs Spain).
Deputy Commissioner Rajat Aggarwal said micro-level planning was done well in advance to make the occasion a memorable one.
"Special arrangements for players as well as spectators were kept in mind while finalising the planning for hosting this historical event. Famous singer Manpreet Akhtar would be there to enthrall the audience. A cultural programme too has been scheduled," he said.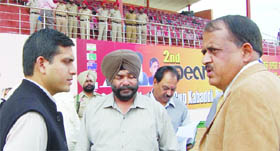 Deputy Commissioner Rajat Aggarwal (left) and Police Commissinor RP Mittal (right) inspect the arrangments at Guru Nanak Dev Stadium in Amritsar on Thursday. Photo: vishal kumar
Nevertheless, this stadium has been transformed into a multi-utility sport arena raised at a cost of Rs 7 crore, which included the freshly installed flood lights. Earlier, the Archaeological Survey of India (ASI) had raised objections over raising the pavilion (at Madan Mohan Malwia road end) and VIP gallery in the stadium, because of its close proximity to summer palace of Sikh leader Maharaja Ranjit Singh.
The ASI gave clearance only after the administration agreed not to raise the existing VIP gallery. The plan for installing a canopy was also withheld.
For time being, a new VIP gallery has been constructed. Two sets of four rooms have been constructed for accommodating the men and women teams. Besides two separate toilets and the approach connecting the venue to Albert road has been laid with fresh interlocking tiles.
Local coaches have been asked to help navigate the visiting teams.
Medical aid
To deal with any emergency situation, two dispensaries have been set up within the stadium. Two ambulances would be stationed at the venue throughout the event.
Dr Balwinder Kakkar, Senior Medical Officer, Civil Hospital, said a dedicated team of orthopaedicians, surgeons and physical therapists would be at the service on the venue. "Out of two dispensaries, one has been reserved for players only," he said.
Security
Anticipating a gathering of over 15,000 kabaddi fans, besides over 150 VVIPs and around 300 VIPs, the Amritsar police administration has made elaborate arrangements. Police Commissioner RP Mittal said over 1,200 cops, including 100 women police personnel and same numbers of traffic cops, have been pressed into service.
Goof-up
Even as the officials of the district administration and the police administration, in collaboration with Amritsar Municipal Corporation and Local Bodies department, were on their toes to ensure no room for error, the red-colour parking stickers meant exclusively for the VVIPs had the wrong parking venue printed. Those having these red colour stickers are supposed to park their vehicles near Alexendra School ground, the sticker puts the parking venue as Cricket ground. Over 125 such stickers have already been distributed to the guests. Now the cops would have to face tough time to divert them to their designated parking.
Similarly, the official press release issued by the administration said the inaugural match would be between the men teams of Argentina and Sri Lanka, the Deputy Commissioner at a press meet earlier had announced the women's tie between India and Turkmenistan would be the inaugural match.
Politicians galore
While the newly built stadium would be inaugurated by Deputy Chief Minister Sukhbir Singh Badal, a series of political personalities would figure at the venue to declare the matches open. The first match would be inaugurated by MLA Bikram Singh Majithia, while Inderbir Bolaria, chief parliamentary secretary, Vir Singh Lopoke, Chairman, Zila Planning Committee, Amritsar would be the chief guests.
In second match, MP Navjot Singh Sidhu would perform the opening act whereas MLA Dalbir Singh Verka and Mayor Shwait Malik would be the chief guests. The third match would be inaugurated by Gulzar Singh Ranike, Animal Husbandry and Fisheries Minister, and MLA Malkiat Singh and MLA Amarpal Singh Ajnala would be the chief guests. The last match of the day would be announced open by Social Welfare Minister Laxmi Kanta Chawla while MLA Anil Joshi would be the chief guest.
Traffic diversion and parking
The police has identified five parking places for VIP guests and four open places for parking of general vehicles. Those coming from Verka, Jandiala, Kathunangal would enter the city from Verka plant chowk and through Batala road (adjacent to Celebration Mall), and would be diverted towards Company Bagh to park their vehicles. Those approaching from Majitha would take Majitha Bypass and would be diverted towards road leading to Guru Nanak Dev Hospital, before proceeding towards Company Bagh parking. Those from Fatehgarhchurian road would take Rattan Singh Chowk from bypass before proceeding towards Novelty Chowk for Company Bagh parking. Those from the Tarn Taran and Chabaal side would park their vehicles in the Deen Dayal Upadhaya parking. For internal points around the venue, the traffic for the Lawrence Road would be diverted to Bhandari Bridge-Ashoka Chowk-Rialto chowk-Sessions chowk. The five VIP parking lots would be-Alexandra School ground, AGA Club, Cricket Stadium, Officers' Colony and Badminton Hall.