M A I N N E W S
5,000-km range missile enough for India: Kalam
Rajmeet Singh/TNS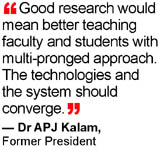 Rajpura/Fatehgarh Sahib, November 17
A nuclear-warhead capable inter-continental ballistic missile (ICBM) that has a range of 5,000 km was enough to watch India's strategic interest, said former President Dr APJ Kalam while interacting with students of Chitkara University here today.
"An ICBM with 5,000-km range was enough as the potential enemies were well within this range," said Dr Kalam, replying in context of India's announcement to test Agni-V, an ICBM that can travel more than 5,000 km. On being asked about the need to develop ICBMs with longer range, the Missile Man of India, without referring to rapidly emerging neighbour China, said the threat was not from trans-Atlantic Ocean.
On being asked about the education system in the country, he said though the Indian students were in big demand abroad, the educational establishments needed to focus more on research. "Good research would mean better teaching faculty and students with multi-pronged approach. The technologies and the system should converge," he said while calling upon the faculty and students to learn integrated system design. Giving a success mantra to the students who would be graduating from the university, he said the future was for those who could design, integrate and manage systems and technologies such as nanotechnology, biotechnology and information technology.
Stressing upon the audience to work for the nation's welfare, he said everyone needed to deliver back to the system and society. "Nations with knowledge and synergy are the world leaders and others follow," he said.
He outlined 10 pillars of Indian development profile 2020. Based his interaction with 12 million youths in the country and abroad, he said everyone would have become unique and think out of the box. "There has to be aim, regular update of knowledge, hard work and perseverance to achieve a goal in life," he said while trying to strike a chord with the students who cheered to every advice handed out to them.
Earlier, he was at Sanghol in Fatehgarh Sahib to inaugurate the International Conference on Rural Development Challenges and Opportunities. The conference is being organised by Lord Rana's, UK-based charitable trust at Cordia Group of Institutes.
He said nuclear energy was a clean energy and it would be beneficial for the people and the state. He said the states must go for nuclear energy.
He also stressed the need to ensure development of rural India by strengthening PURA (Providing Urban Facilities in Rural Areas) and to take it as a mission. Elaborating on PURA, he said it involved physical, electronic and economic connectivity. He suggested to the DC and Lord Rana to make Sanghol village "Sanghol PURA".