Edu dept conducts surprise raids at govt schools in the district
Local Paras Ram Nagar school tagged worst in cleanliness & management; stench found emanating from girls' toilet
Megha Mann
Tribune News Service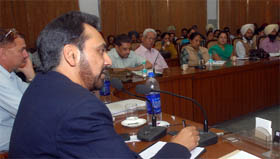 Principal secretary, education, Hussan Lal, talking to the government teachers in Bathinda on Friday. Tribune photo : Malkiat Singh
Bathinda, November 18
Led by principal secretary, education, Hussan Lal, the teams of the Education Department, Chandigarh, today swooped on various government schools in the district to conduct surprise raids.
The teams have tagged Government Senior Secondary School at Paras Ram Nagar as the worst in cleanliness and management, followed by Government Senior Secondary School (Boys), Goniana, and Government High School, Kotda Kaura.
After the surprise raids, the team members and Hussan Lal conducted a meeting with the head of all the schools in the district.
Team members said the school at Paras Ram Nagar was named after a Kargil martyr but lacked discipline and cleanliness. There were no teachers in the classrooms. Students were given tests on the spot. Questions on maths and science evoked poor response from the students. The team members were unhappy with the poor quality of education being imparted at the school.
They pointed out that girls' toilets emitted stench despite the fact that special grants were being given under the Sarv Siksha Abhiyaan (SSA) to keep the toilets clean. Also books in the school library appeared to have been lying untouched and undistributed.
Similarly, the school at Goniana was found in a complete state of mess. There was not even single teacher for classes VI, VII, VIII and X. Out of 31 students present in one of the classrooms, 24 were without notebooks.
School principal told the authorities that teachers concerned had gone to attend seminars, workshops and other duties.
The Government High School at Kotda Kaura too drew ire from the inspecting teams as there was no blackboard for classes VI, VII and IX. The school authorities had not reached the school till 11 am.
Teachers don't listen to me, complains school principal
The principal of Government High School, Lehra Dhulkot, pointed out that three male teachers, one of maths and two teaching computer subject, do not abide by his orders. "When asked to follow the orders of the education minister for taking oath (about speaking truth) every morning, all three teachers declined to do so saying that since they never speak lie, they do not need to take any oath," principal told the education officials.
RTE Act setting a bad precedence: Teachers
Teachers pointed out that under the RTE Act, no student (till class VIII) could be declared failed or punished for not coming to school daily. Consequently, large number of students bunk classes. When these children reach class IX, their studying habits already get changed and they end up with poor performance.
Responding to a query, Hussan Lal, principal secretary, education, said students should be tempted to come to school. They should not be forced to do so. The reply did not, however, go down well among the teachers present.
Lack of staff hampering official work: School heads
Teachers pointed out that lack of clerks, peons and sweepers had hit the functioning of schools.
The in-charge of Government School, Mehma Sarja, pointed out that she had no clerk to deal with official issues. Resultantly, she was unable to disburse salaries and meet other demands of the administrative set up.
The in-charge of Government Senior Secondary School, Goniana, pointed out that there was no clerk at school. "Around 15 cases of amount disbursal to retired teachers are pending. I am being threatened and served court notices. I don't now what to do. We should be given immediate help," she demanded.