Lavish sports day plans irk salary-less teachers
Aparna Banerji
Tribune News Service
Jalandhar, November 18
It must be for the first time that a certain schools' sports day plan hasn't cheered students up.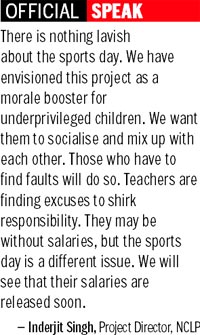 The upcoming sports day celebrations for the students of the National Child Labour Project (NCLP) schools in Jalandhar, Ludhiana and Amritsar have infuriated the already glum-faced teachers working under the project and students in the city.
Sans salaries (in the case of teachers) and stipends (students) with their morale on an all-time low, the NCLP schools' staffs have been told that their children will be playing 12 games (many of which they haven't even heard about).
Most of the NCLP schools in the city don't have playgrounds and the information regarding the games, to take place in Ludhiana on November 30, has been given to the schools only a week ago.
The teachers have been told to train students in complicated games like kho-kho, kabaddi, discus throw, long jump, etc, for which they don't have basic infrastructure, equipment (or playgrounds), in two weeks.
The teachers lament that when the government can splurge loads of amounts on a grand-scale inter-district sports days, why can't it pay them and the children long-pending dues.
"All children will be given lunches. Elaborate preparations will be made to charm VIPs. They will pay for the students' conveyances. They are ready to do all that, but they are not ready to pay us," they add.
While the NCLP schools' teachers are yet to receive their salaries of the past eight months (from April 2011), the students, who were enticed into the NCLP project with the very promise that they will get monthly stipends of Rs 100, haven't got the same since September, 2010.
A teacher from a local school says, "We have a small school with limited rooms that barely seats all children. Where will they practice? When we tell children about kabaddi, kho-kho or discus throw, they look at us blank-faced. These are children of daily wagers. They have never heard of many of the games before. The government has imposed the project on us, without providing us with funds, equipment or basic infrastructure."
Another NCLP school teacher said, "The only parks in our neighbouring areas have gamblers sitting beneath trees. Getting the parks emptied for game practice is an ordeal in itself. These children will not be able to pick these games in such a little time. We are schoolteachers, not professional sports coaches."
Professor Anup Watts, whose NGO Citizens Welfare Protection Council runs two of these NCLP schools, said, "Our schools are too small for sports practice. We took the children to Burlton Park. There, due to ongoing construction, the area was fenced. We then chose another nearby ground. Students can't learn the games in such a little time. On top of it, both students and teachers have been feeling low due to lack of money for the past many months. Somewhere the very purpose of the project is getting lost. We are still trying to do what we can for the students."
In a meeting scheduled on Monday, the authorities will decide when the Jalandhar-based contests will take place (to shortlist students for the final sports day). Originally mooted by the ADC (Development), Ludhiana, and backed by Inderjit Singh Project Director, NCLP, the plan for the sports day will see four children (each) participating in each of the 12 games from all 27 NCLP schools in the city. It is mandatory for all 27 NCLP schools to send students for the sports day.
Authorities play 'spoilsport'
Lavish inter-district (Jalandhar, Amritsar, Ludhiana) sports day plans even when teachers and students in the district have been without salaries and stipends for the past eight an 13 months, respectively,
Many of the Jalandhar NCLP schools don't have playgrounds so teachers have been left looking for neighbourhood parks (some of them hangouts for neighbourhood gamblers)
Students have to be trained in games that they have never even heard of
The schools have been provided nothing in the name of equipment for games like discus throw, long jump, etc
Plan announced just a week ago and to some schools just day before yesterday. Teachers have just less than two weeks left to train students.