The Haryanvi show
Most of the young actors from Haryana perceive Chandrawal 2 as a turning point for cinema in the state

Actor Mallika Sherawat sizzling on screen leaves you wondering; amidst all the 'what is she doing in Bollywood, what is she wearing, can she act…have you ever wondered where the star comes from? And the answer is Haryana, a simple agriculturists' state that has given Bollywood some good talent — Randeep Hooda, Mohit Alawat (Ram Gopal Verma's Sholay), Satish Kaushik, Sonu Nigam, Subash Ghai et al.
B-Town Rules: Randeep Hooda
In the legend's footsteps
Legendary singer Kishore Kumar's sons, Amit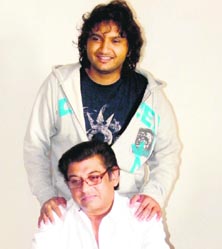 and Sumeet, here to take part in the Chandigarh Carnival, share some sweet memories
He's been there, done it all! The singer behind hits Laila o Laila, Yeh Bombay Shehar Haadsoon Ka Sheher Hai, Deewana Dil Deewana, Zubi Zubi, Bole Choodiyan, Amit Kumar has rocked the Bollywood for more than three decades! In Chandigarh for the Carnival on Saturday, Amit Kumar, son of legendary singer Kishore Kumar, shares some excerpts from his life. "Baba used to say that if you want to work in the industry, you have to wear a mask. I have enjoyed my stint in films (still do if someone calls with love), but now it's time that I make my own compositions and music that I love," says Amit.
TUNED IN: Amit Kumar (in white shirt) and Sumeet Kumar. Photo: Pradeep Tewari

Lasting fun…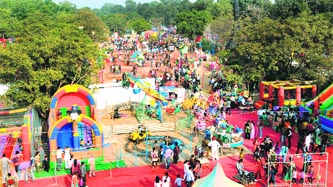 Fun, frolic and festivity were rife on the second day of Chandigarh Carnival on Saturday. There were as many dancers on stage as off it as hits from Shammi Kapoor's era as well as the recent movie Rockstar filled the air. If girls dressed as Kashmirans performed on Yeh chand sa roshan chehra in shikaras, school boys rocked on to Sadha Haq.
GALA TIME: Crowds throng the Chandigarh Carnival. Photo: Pradeep Tewari
Younger take
Many parallels are drawn between Kishore Kumar and his younger son Sumeet Kumar, labelling them moody or even eccentric. Sumeet, in Chandigarh as part of Carnival, shares his take, "I believe pressure kills creativity. I don't want to live a life in which I cannot spend the evening the way I want to." Sumeet has sung some numbers, including hit Bachna Ae Haseeno, but it's the compositions that give him more pleasure.
ETCHED to perfection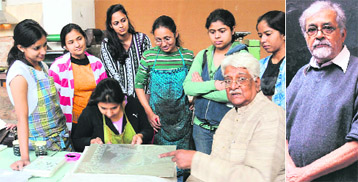 Few would go back to the history and conclude that all forms of art have taken shape from the oldest concept of printing. That was exactly when art took shape. With the idea to ensure that the finest of the fine arts; printmaking, does not miss on the expertise, Government College of Art-10 is organising a workshop on etching.
Art Mart: RB Bhaskaran with students of the Government College of Art-10. (R) KS Viswambhara. Photos: Pradeep Tewari

It's rocking
The southern temptation

If you haven't heard 'Why this Kolaveri, Kolaveri, Kolaveri Di?' from the upcoming Tamil movie '3' you probably don't belong to this world. Kolaveri Di has become a rage amongst the youth and is spreading like a virus after Sadda Haq from Rockstar, and is being declared as the youth anthem. Staggering 8 million hits on Facebook within 10 days of its release and Dhanush, Rajnikant's son-in-law who has sung the song, is completely elated that the song with nonsensical lyrics is doing so well.
The foodies
It's café time folks!
Winter is at the doorstep and it's time for hot brews, warm soups, grilled sandwiches, pastas and much more. Well, in search of a perfect winter treat, we check out Café Amor in Page 3, Panchkula. Now this is a European cafe that stands out for its thin crust pizzas, wonderful choice of soups, hearty breakfast items and more. Though food is the high point of the café, the décor too deserves applause, especially the check floor and casual ambience. With perfect lighting (neither dim nor too bright), the seating arrangement is relaxed with a low lying sofa and comfortable chairs.
Don't sleep over it
Scientists have identified the gene responsible for controlling the length of time for which an individual sleeps and why some have their own internal alarm clock. Karla Allebrandt and her team from the Ludwig Maximilians University of Munich identified a gene called ABCC9 that can reduce the length of time we sleep.
What's GRILLING?
Keeping the upcoming winter in mind, JW Marriott launches the Grill and Griddle food festival
The arrival of winter marks the profound need to sit out in the sun, pull over a warm jacket and bite into something right out of the grill. Focusing on Punjabi love for the grill, JW Marriott launches exquisite menu for battling the winter chill through the Grill and Griddle festival. The seven-day cyclic menu offers an interesting mix of vegetarian and non-vegetarian delights.
Musical beat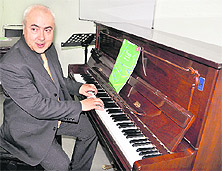 Music knows no boundaries, we know…but a music examination that covers over 90 countries registered its first presence in the region recently! Paul Arnell, an ardent music lover, teacher and examiner, representing The Associated Board of Royal Schools of Music (ABRSM) was in Chandigarh on his first official visit (he has holidayed in India thrice before). As an examiner with ABRSM, Paul covers much of the globe and an examination with Bridge Music Academy at The British School-44, Chandigarh, has impressed him. RIGHT NOTE: Paul Arnell


On the live stage
Director Rohan Sippy, who hit the big time with Bluffmaster, is taking a short detour from cinema to make a live musical for the stage and says he is finding it more fun than making a movie. The three-film old Bollywood director is helming a fifties-themed jazz musical called Fashion Broadway and is excited about his maiden stage venture.
Broad horizon: Rohan Sippy
Katy in Marilyn's shoes
Oscar-Winning Hollywood producer Harvey Weinstein wants Katy Perry to play Marilyn Monroe in a Broadway musical based on his latest movie. The film My Week with Marilyn starring Michelle Williams as the screen icon is based on the memoirs of Colin Clark.
Inspired PLAN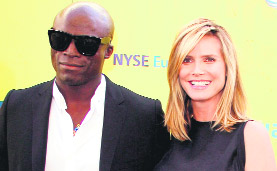 Inspired by Hollywood actress Sandra Bullock, German supermodel Heidi Klum and her husband, singer Seal, are also keen to adopt a child. "I was really inspired by Sandra Bullock. She came around with her adopted son and she's raising a little boy by herself. She's giving him a chance, but he doesn't know it yet, which is just awesome," a website quoted Seal as saying.
Loving parenthood: Seal and Heidi Klum
Dream wedding
Daniel Craig and Rachel Weisz, who were thrown together as husband and wife in Dream House, fell in love with each other on the sets of the movie despite both of them being in long-term relationships before they started work. Despite the pin-up status of the leading stars, off-screen romance seemed like the last thing on the cards when they arrived in Brampton, Ontario, but by the time the film wrapped two months later, they were already making plans for a life together.
For the love of art
Unwritten Thoughts, an exhibition by young artists, showcases their inherent creativity

Rockstar is everyone's favourite
What would Bollywood be without its glorious music? Bollywood stars talk about their favourite songs and albums of the year
Don of hearts
Shah Rukh Khan is the media's darling. He is back doing the promotional rounds for Don 2, thought it has only been a month since the release of Ra. One. The superstar talks about the film and his teammates.
Chatter box
Shilpa finds love
Post her sudden breakup with actor Romit Raj when they called off their marriage due to some personal differences, actress Shilpa Shinde has returned to television with Sab's new show Chidiya Ghar. Moreover, she has found love too. She is dating someone but is unwilling to reveal his name yet. Clearly, she has moved on and started afresh. Good going girl.
Astro Turf
ARIES: Try to reduce the amount of cash you spend on groceries. New attractions are likely to be serious. Do not hold back anything from your boss. Talk to your counselor before confronting your partner. Tarot message: Don't waste an opportunity by being rash or impulsive. Lucky colour: Turquoise. Magic number: 44.
The year ahead
If your birthday is November 27...
If a sportsman and born today, and indulging in adventurous pursuits, you are prone to accidents between December and March. Trust your instincts about a troublesome colleague. Their secretive behaviour is the result of personal pain. By offering a helping hand, your work environment will become much more relaxed. By making friendly overtures at this vulnerable juncture you'll see a dramatic transformation.
Kangana's mystery man
Kangana Ranaut is in the news with or without movies. Her roles make news, so does her fashion sense, and her relationship status. People hate her or they love her. The powerhouse performer who has an air of mystery around her talks about her movies and more.
Tang twister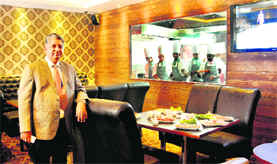 Are you one of those who squeeze a lemon into each dish on the dining table? If you belong to the clan, Lemon 35 is one restaurant for you to visit. The restaurant recently opened its doors for the foodies. Apart from the comprehensive multi-cuisine menu, the restaurant will also be offering Lebanese food, with a Punjabi twist.
Sweet & sour: Rakesh Sachdeva. Photo: Pradeep Tewari
Everlasting friendship
Composers Vishal Dadlani and Shekhar Ravjiani are known for their 12-year successful partnership and foot-tapping numbers. In an industry where friendships are fragile, Vishal says his partner's patience and kindness have kept them going.
Ryan mesmerised by Denzel
Actor Ryan Reynolds says he loved working with Denzel Washington in the new movie Safe House and found him adorable. The 35-year-old said he found Washington's method approach to acting in the film endearing. "He's very Method. He's living, eating, breathing and sleeping his character. I have to always call him Frost and he calls me Matt. It's adorable," Reynolds said.
High Spirits
French mimosa
A blend of three of the finest spirits with the hint of orange.
Hewitt's holiday diet
Actress Jennifer Love Hewitt says she won't be indulging over thanksgiving this holiday because she needs to keep fit for shooting raunchy scenes for TV movie The Client List.
Life is beautiful
Celina Jaitley turned thirty recently and celebrated her birthday with her husband Peter Haag. It was her first birthday after marriage and she is pregnant with twins. She is on cloud nine for sure. Birthday girl: Celina Jaitley
Jinxed Jism
Jism 2 is not falling into place. John and Bipasha refused to work in the film and Mallika Sherawat wanted Rs 1 crore for her role. So, they are looking for the lead pair and it will be a while before the film goes on floors.