A VOICE that was...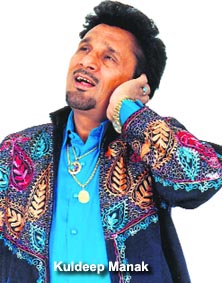 The demise of famous Punjabi singer Kuldeep Manak has shocked the singing fraternity. Some of them share memories of the great artiste
Main Manak Da Chela, Dass Doon Aal Dawaale Nu, Meri Umar Vi Lagg Jey Jandu Littranwale Nu`85when Punjabi singer Jazzy B sang the lines from the song Jadu from his album Rambo, we knew it was the highest respect a singer could give to another great singer — Kuldeep Manak. The actor-singer cannot believe the news of Kuldeep Manak's demise. After all, it was two or three days prior that he had had a word with Kuldeep Manak and asked him to get well soon. "I can't believe he is gone. Despite his ill-health, I knew he would be fine and singing again," he says. But now it is only memories, memories of a singer who won many hearts with his raw voice, who made every child sit and acknowledge the role of a mother in their lives when he sang maa hundi hai maa oh duniya waleo. Today, it is his kaliyaan that we are left with and a legacy called Kuldeep Manak! Those who know him as a friend, mentor, or someone who called a spade a spade, share their memories.
Role change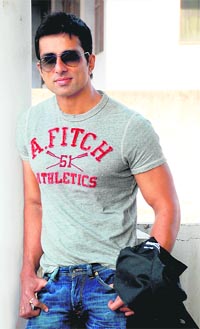 In Chandigarh, location-hunting for his upcoming movie Lucky Unlucky , Sonu Soood shares notes on his venture and why he walked out of Dabangg 2
Tailor-made questions — straight, direct and superficial — this is how most celebrities prefer their interview sessions to be. But Sonu Sood is one actor who is okay with 'just about any kind of question.' So, when we wanted to delve more into his walking out of Dabangg 2, the actor doesn't try to hide it under the politically correct cover! In Chandigarh, location-hunting of his upcoming movie Lucky Unlucky, with which he turns producer as well, Sonu pours his heart out. "I enjoyed the whole experience of working in Dabangg. I am close to Arbaaz and family, and we understand the creative needs of each other. I liked my role as Chedi Singh in Dabangg, so I wanted the role in Dabangg 2 to stand up to its magnanimity. I wasn't really convinced about my character and spoke to Arbaaz about it, who is directing the sequel. I decided not to be a part of the movie, but I might be doing Dabangg 3," he laughs.
STEP AHEAD: Sonu Sood. PhotO: Nitin Mittal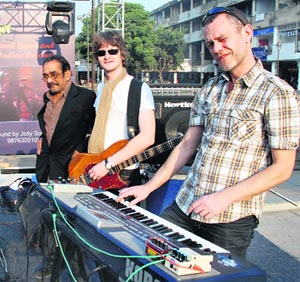 An accidental story
Band Slow Joe and Ginger Accident , on their maiden gig at Chandigarh on Wednesday, share their strange tale
Slow Joe and Ginger Accident, strange is the band's name and even stranger their story. Joe Rocha's talent for music was recognised by his father during his childhood, but Joe refused to sing for money. While he spent his peak years at dock jobs, it was an accidental meeting between Joe and Cedric de la Chapelle that put the band in place.
Right beats: Members of the band at Sector 17. Photo: Nitin Mittal

Say hello to Armani Jr!
Designer Suneet Varma believes in keeping pace with the changing times. So, he has turned into an entrepreneur and is bringing Armani Junior, a subsidiary of international luxury fashion label Giorgio Armani, to India. "I have bagged the Indian franchisee for Armani Junior. I wanted to do something in luxury but I was sure it had nothing to do with shoes and bags. Then I zeroed in for children's wear, as it is a niche segment and there is tremendous scope in this area," Varma said.
Women take more risks in company of other women
In the right company
Women tend to take more risks at the workplace when they are in the company of other women, suggests a new study.
Alison Booth, researcher at the Australian National University (ANU), tested whether single-sex classrooms in co-educational environments altered students' risk-taking attitudes. "Given that risk attitudes can be shaped by the environment, changing the educational or training context could help address under-representation of women in certain areas," to a university statement quoted Booth as saying.
Chatter box
Fictitious allegations
Actress Ragini Khanna has appeared in many serials and most of them are fictions. However, the actress denied the reports that are doing rounds saying she has been misinterpreted. She says, "I was asked if I want to do another fiction show to which I answered I won't do any fiction shows as long as I am doing Sasural Genda Phool as it already takes enough of time. I will accept some offers after I am done with SGP. But I was quoted saying I won't do fiction ever. I am an actor. How cannot I like fiction? I love fiction and I cannot survive as an actor without doing fiction. Reality shows are just a side thing for actors to do. They motivate you and throw challenges. But I enjoy my work and that's the reason why I have doing fiction shows all these years. The entire experience of working in Sasural Genda Phool has been enriching for me. Not only has it made me a better actor but also as a person. I connect with the character." That's definitely good news for fans. Isn't it?
Astro Turf
ARIES: Joint resources could be under extra pressure. The temptation to help out a friend financially should be discussed with your partner first. A sexual relationship will reach its climax. Tarot message: Prevent people from drawing their own conclusions. Lucky colour: Yellow. Magic number: 32.
TAURUS: Your partner supports you. Do not allow yourself to be talked into an erratic move. Right time to purchase something that adds to the value of your house. Working toward your goals may seem a little harder. Tarot message: Don't be dismissive of advice from youth. Lucky colour: Sea green. Magic number: 52.
The year ahead
If your birthday is December 1...
If you plan to entertain your friends or relatives at home to celebrate your birthday, a cultural or travel theme would be fun. You've got great instincts when it comes to making people comfortable. You start the year fresh and engaged, full of great energy and ready for almost anything. There should be few surprises. Cash flow problems may pop up but it will not last. The stars will help you find a different way of working. Be creative. Self-employed people will have fewer tasks.
Fight the lines


Aging is inevitable, but healthy food choices can help us extend our lives, and make us feel and look much younger. The general guidelines for the anti-aging diet are-low calorie consumption, less intake of saturated fats, salt and sugars and eating plenty of wholegrain, oily fish, fresh fruit and vegetables. Here is a list of foods that you should include in your diet. These foods will help your body fight off the damages caused by aging.
ART affair
Punjab Lalit Kala Akademi has brought together 127 works of artists from the region
Henry Moore had once said that there's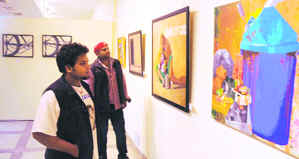 no retirement age for an artist; it's your way of living so there's no end to it. He must have never known that his words have been etched in the memory of every person who has held a brush in his hand! For the purpose of gathering the best from the artistic industry of Punjab, the Punjab Lalit Kala Akademi has brought together 127 works from the 628 submissions received. Elaborating upon the process followed by the Akademi, RN Singh, secretary of the Punjab Lalit Kala Akademi, says, "The forms were sent out to all categories of students, professionals and galleries located in Punjab." Photo: Pradeep Tewari

TREND SETTER
Elegant statement
Being 'a la mode' has become a little tough with the fashion scene changing rapidly and being so globalised that we have to be extra smart to follow the latest trend. Those who can cultivate this aura do warrant a second glance. A student of Architecture Interiors, winsome Nazam Sood with her own distinctive style, tells us how
Secret of success
Abstaining yourself from revealing your weight loss plan could be the key to successful accomplishment of your goal, a new study has revealed. A study from New York University revealed that those who shared details of their regimes with family and friends were less likely to meet their goals.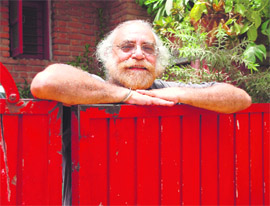 Natural progression
Chandigarh Lalit Kala Akademi is organising an exclusive slide lecture by eminent artist and legendary landscape painter Paramjit Singh. An art book in Punjabi Sahaj Prakriti containing almost 80 plates of paintings depicting life and art of Paramjit Singh, written in Hindi by Vinod Bhardwaj, renowned art critic and translated in Punjabi by Amarjit Chandan, one of the best poets of Punjabi will be released on this occasion.
Art's own: Paramjit Singh
Doomed to be single!
Lady Gaga has revealed that she's tone-deaf about relationships and fears being ticketed for a lifetime of singlehood. The pop queen revealed that she's been caught in nothing but bad romance on the stormy sea of love. "I have never felt truly cherished by a lover," said the singer in an interview. "I have an inability to know what happiness feels like with a man. Gaga said that all of her relationships start well — before they inevitably crash and burn.
Men of style
Let's take a look at mature men in the industry and their sense of fashion and style.
Line of success
Wondering why Hollywood is always obsessed with young look, India's best export to West, actress Freida Pinto says she cannot wait to grow old.
Tom in World War?
Hollywood star Tom Hanks is producing a World War II drama based on Erik Larson's book, which is set in the world of Hitler's Germany.
Meeting the standards
Hollywood actress Angelina Jolie thinks she will never be able to meet the standards her late mother, actress Marcheline Bertrand, has set.
Kylie's generous gesture
Pop star Kylie Minogue is raising funds for a children's charity by selling off her personalised sports car.
Perfect shot
Maneesh Sharma, the director of the film Ladies vs Ricky Bahl, decided to add boats against the beach in one of the shots to make it more interesting — this last minute addition made for a perfect shot and the boats became an integral part of a decisive scene in the movie that involves the entire cast. During one of the shots on the jet ski, a big wave hit Ranveer and Anushka and flung them in different directions in the middle of the sea. Yet both of them braved 20-foot waves, despite the Jet Ski being capsized and gave the perfect shot.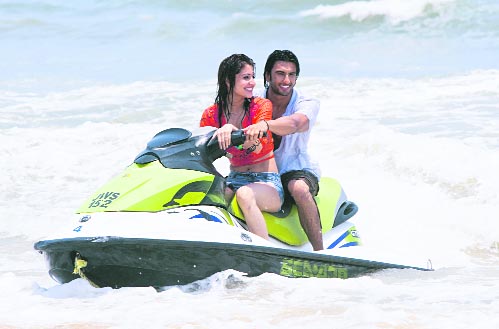 Braving the sea: Ranveer Singh and Anushka Sharma
Hitler in trouble
Zee TV's recently launched show Hitler Didi is causing distress to a US-based rights organisation, the Anti-Defamation League (ADL), which wants the channel to remove the name Hitler from the show's title as he was a dictator and a mass murderer.

Happy unit
Kareena Kapoor has started shooting for Heroine. Madhur Bhandarkar is so excited about his movie that everyday we see a new picture of the shooting of the film. Yesterday, they shot at a mall in Thane.
True heroine: Kareena Kapoor
No pranks please
Singer Jennifer Lopez hacked her show crew when they played a prank on her during rehearsals. The 42-year-old reportedly got very upset with her crew when at the last minute before her live show, some one locked the doors of her fiat she had to use in her performance. "Afterwards she had a fit. There was a lot of yelling as she tried to find out who was responsible," source added. — ANI

Karan's censor trouble
The Indian Censor Board wanted the word 'sex' tweaked in Karan Johar's new trailer of Ek Main Aur Ekk Tuu. Since when did sex become a dirty word in the country with the largest population? The Censor Board is so last century!
The 'S' word: Karan Johar

No leading lady for Punit
Sonam Kapoor's boyfriend Punit Malhotra has not been able to find a leading lady for his acting debut. It is directed by Adeeb Rais and is called Main aur Mr Right. Shraddha Kapoor, Deepika Padukone, and Anushka Sharma have turned down the film.
Miss right: Sonam Kapoor