Fight the lines
Roopa Pahwa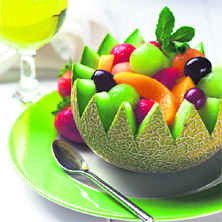 Aging is inevitable, but healthy food choices can help us extend our lives, and make us feel and look much younger. The general guidelines for the anti-aging diet are-low calorie consumption, less intake of saturated fats, salt and sugars and eating plenty of wholegrain, oily fish, fresh fruit and vegetables.
Here is a list of foods that you should include in your diet. These foods will help your body fight off the damages caused by aging.
Berries: All black and blue berries such as blackberries, blueberries, blackcurrants and black grapes contain powerful antioxidants. Antioxidants help to protect your body against damage caused by free radicals and hence fight against aging.
Nuts: Nuts are tasty and loaded with many essential vitamins and minerals that the body needs. They are a rich source of potassium, zinc, iron, magnesium, copper and selenium. Most varieties are very high in fibre and are rich sources of unsaturated fats. Adding nuts to your diet can enhance the functioning of your digestive and immune systems. They help improve your skin and help to prevent cancer. Nuts may also help control cholesterol levels. The only drawback of nuts is that they are high in fat, so only a handful a day is good but not more. A good way to add nuts to your everyday diet is to sprinkle them over a salad or to add them to cereals.
Avocado (butter fruit or makhanphal): Avocados are bursting with antioxidants, vitamin E and essential fats. People on low fat diet usually avoid it because it contains a lot of fat. But actually it is a good source of healthy monounsaturated fat that may help to reduce the level of cholesterol in body. It is also a very good source of Vitamin E, which is essential for keeping skin smooth and young. Also, avocado contains potassium which helps prevent fluid retention and high blood pressure.
Green Tea: Some of the anti-aging health benefits of drinking green tea include, protection from cancer, heart disease and dementia, increased weight loss and greater physical stamina. Being rich in flavonoids, it can also help protect the skin against ageing as well as reduce skin damage caused by the sun. It is inexpensive, tastes good and can very easily be added to your diet.
Chocolate: Chocolate (dark chocolate) is good for you. Recent research shows that eating moderate amounts of dark chocolate brings numerous health benefits to you. Dark chocolate is unusually rich in flavonols that help preserve the healthy function of blood vessels. Maintaining healthy blood vessels lowers the risk of high blood pressure, type 2 diabetes, kidney disease and dementia. Dark chocolate also protect your heart against aging, damage and heart disease. The only draw-back is that chocolate also has calories. Have a little square every day, but don't overdo it.
Wine: Red wine is rich in antioxidants, minerals and resveratrol, which makes it a perfect anti-aging portion. Antioxidants fight free radicals and resveratrol has anti-aging, antiviral, anti-cancer and heart healthy properties. At the end of your day have a glass or two to relax and unwind. You'll get the benefits of a delicious drink along with its anti-aging properties However, if you don't like to drink you can opt for eating a lot of red grapes instead.
Vegetables: Vegetables and youth go side by side. Spinach, carrots, salad leaves, lettuce, kale, broccoli, beets, onions, red bell peppers, beans, alfalfa sprouts etc are highly beneficial for the body. Not only do they help keep the body weight low but also help fight toxins which in turn ward off various age related diseases. Make sure to include these vegetables in your daily diet and make it a regular fare.
Yogurt: In aging people, gradual decline of immunity is a natural phenomenon. With age you lose bacteria in your intestine, making it more difficult to prevent digestive diseases. Yogurt is full of healthy probiotics (good bacteria) that help promote a balanced intestinal environment. And
this in turn helps diminish the incidence of age-related intestinal diseases. Yogurt is also rich in important minerals like potassium, calcium, protein and B vitamins.
Fish: Your anti-aging diet plan must include fish. Fish is a healthy protein source and contains omega-3 essential fatty acid. It stimulates the immune system, reduces your cholesterol, lowers risk of heart disease and is good for brain health. Opt for oily fish like salmon and tuna, and do take care of mercury levels and fish contamination which is a major concern these days. If fish is not a favourite or you just don't eat enough, try adding walnuts and ground flaxseed to your diet since these foods also are rich in fatty acids.
Whole Grains: Make sure to include whole grains like whole wheat, brown rice, and oatmeal to your diet. These foods provide the much needed fibre to your diet as well as aid specifically in anti-aging by helping to prevent diabetes, colon disease and cancer, gum disease, and more. Also these contain complex carbohydrates, which provide you with a consistent supply of energy throughout the day!