Button up for royalty
All talks about women liberation takes a breather for a while, even as handsome, lean and mean bodies of men flaunt the latest designs in fashion. Finally, we have something on equal ground for men and women — but of course, fashion. If designers work and exhaust their creative juices to come up with sexy designs for women, then they are spending the same time in creating chic, traditional, royal and formal designs for men.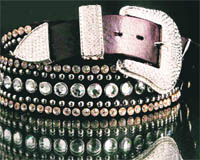 Access baggage
After several months of neutral and nude tones, it seems the time has come to shift towards colour and accessory. Although the catwalks have already seen plenty of show from designers showcasing their latest wares, not for the Autumn/Winter collections, but they have already moved on to Fall/Winter 2011/2012 and clearly determined the fashion trends for this season.
Not selling Beti B's pictures: Big B
Megastar Amitabh Bachchan has denied reports that he is planning to sell pictures of his son Abhishek and daughter-in-law Aishwarya's first child.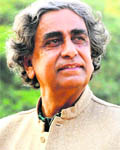 Speech-less!
Taking mime from being a trivial part of theatre to a full-fledged discipline, Padma Shri Niranjan Goswami's long journey has been replete with accomplishments. He started exploring mime in childhood and some five decades later, Niranjan, director, Indian Mime Theatre, is about to finalise the first national mime academy and his book Methods of Mime Acting.


stage act: Niranjan Goswami

Deep verses
"Life will keep bringing its own challenges, one needs to tackle them at each step," says Chandan Dass, noted ghazal singer. In Chandigarh as part of the ongoing Pinjore Heritage Festival on Friday, Chandan Dass shares notes from his life.
Living history
History never looks like history when you are living through it. — John W Gardner
One for the artist!

The Creators have their works displayed at the Government Museum & Art Gallery-10, Chandigarh. Together since 1981, this group comprises eminent painters, sculptors and applied artists from the region. The exhibition opens with some marvellous sculpture models by celebrated artist Shiv Singh. Black, bronze and silver - metal takes varied shapes and colours to signify books, the airport, open spaces and communication. Roop Chand, the pioneer of modern movement of art, has some works from his Bindu collection on display. The 'dot', signifying the beginning of life in its myriad forms, is the theme of his oil on canvas paintings.

Weight watch
Rate of gain
One term that's often used in the context of healthy weight is the basic metabolic rate (BMR). And you will quite often hear about weight related to individual BMR. This is how it's abbreviated…
Blame it on chromosome
A study by researchers, including an Indian origin one, has found that nearly all women feel threatened by an attractive peer due to which their reaction towards the woman can range from a simple sneer to name calling. Psychologist Tracy Vaillancourt, from the University of Ottawa and Dr Aanchal Sharma of McMaster University in Canada, conducted studies to find out just how hostile women are to an attractive member of her own sex.
star track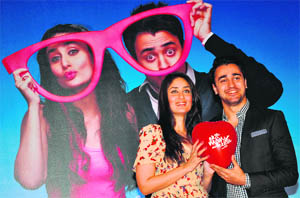 Ek Kareena aur Ek Imran
Kareena on Imran
I think Imran is a really sweet guy and he is very nice to be around. He is the youngest Khan I have worked with. I think he doesn't have a sense of humour. He is not funny; even his friends and wife thinks so! He is very good-looking. It was so nice of the team of this film to wait for me as they wanted me in the movie. I think this will be one of the best performances of my career.
Movie magic: Kareena Kapoor and Imran Khan

n Between art and commerce
n Spider man...
n Green stamp
n Bolly bash for Pit
n Randeep in the race
n The dirty laugh
chatter box
Shweta for daily drama
Post the hit show Bade Achhe Lagte Hain many senior actors, who were missing from our television screens for lack of good work, are inspired to return to daily soaps. Shweta Kawatra, who worked with Sakshi in Kahaani Ghar Ghar Ki, feels Sakshi's comeback now is pushing her to give daily soaps another shot. She is eager to play the lead once again after doing cameo roles in Phulwa and Adaalat.

n Final touches
n Problem in parlour
n It's not working out for Redji!
n Aastha the cameo queen
n Kushal in love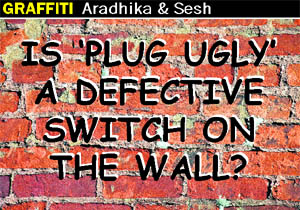 first-day-first show
The Dirty shines
The Dirty Picture
The Dirty Picture is based on the life of the South Indian siren Silk Smitha. Imagine a make-up girl who became an extra and then the most wanted heroine of the early 80s. Chronicling the meteoric rise and steep fall of her career, The Dirty Picture is set against the colorful and entertaining backdrop of the South Film Industry of the 80s.