MCI norms a casualty here
Physicians, hospitals allure patients with misleading advertisements
Bipin Bhardwaj
Tribune News Service
Jalandhar, December 3
Medical practitioners in the city have been enticing patients through misleading advertisements in the media, displaying banners and huge hoardings in and around the city.
In violation of the Indian Medical Council (Professional Conduct, Etiquette and Ethics) Regulations, 2002, scores of city-based medicos are indulged in unethical acts and are alluring patients by advertising in local TV channels, FM radio and even local English and vernacular newspapers.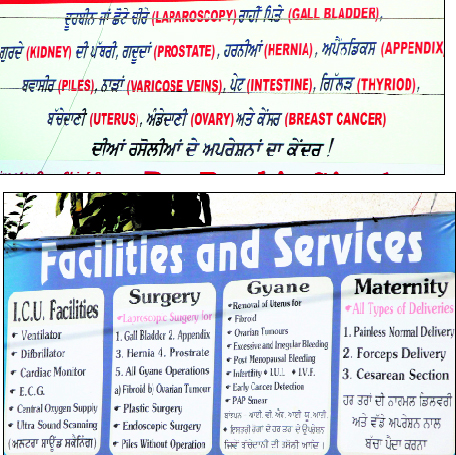 Hoardings and signboards display advertisements of various physicians and hospitals in Jalandhar. Tribune photos: Malkiat Singh
Some hospitals have even displayed huge hoardings along national highways and main roads. This is not only the violation of the MCI guidelines, but also the Punjab and Haryana High Court directives.
The Punjab and Haryana High Court has already banned erection of hoardings and signboard along the national and state highways. The city is globally known for its hospitals - nearly 400 in number - and a majority of them reportedly are not complying with the MCI regulations relating to the Professional Conduct, Etiquette and Ethics for registered medical practitioners.
Interestingly, all the hospitals have failed to deliver the facilities of international standard to patients. Besides NRIs, the hospitals have been banking on the patients coming from neighbouring states, including Jammu and Kashmir, Himachal Pradesh and Punjab.
The chapter 6 of the MCI guidelines prohibits a physician from advertising. It says soliciting of patients directly or indirectly by a physician, a group of physicians or by institutions or organisations is unethical. A physician shall not make use of him/ her (or his/ her name) as subject of any form or manner of advertising or publicity through any mode either alone or in conjunction with others which is of such a character as to invite attention to him or to his professional position, skill, qualification, achievements, attainments, specialities, appointments, associations, affiliations or honours and/or of such character as would ordinarily result in his self aggrandizement.
A physician shall not give to any person, whether for compensation or otherwise, any approval, recommendation, endorsement, certificate, report or statement with respect of any drug, medicine, nostrum remedy, surgical, or therapeutic article, apparatus or appliance or any commercial product or article with respect of any property, quality or use thereof or any test, demonstration or trial thereof, for use in connection with his name, signature, or photograph in any form or manner of advertising through any mode nor shall he boast of cases, operations, cures or remedies or permit the publication of report thereof through any mode.
A medical practitioner is, however, permitted to make a formal announcement in press while starting practice, changing of type of practice, changing his address, temporary absence from duty, resumption of another practice, succeeding to another practice and public declaration of charges.
Printing of self photograph, or any such material of publicity in the letter head or on signboard of the consulting room or any such clinical establishment shall be regarded as acts of self advertisement and unethical conduct on the part of the physician.
However, printing of sketches, diagrams, picture of human system shall not be treated as unethical.