Buyers go for cheaper the better at trade expo
Finest wollens, hand-made carpets from Afghanistan do not find many takers
Neeraj Bagga
Tribune News Service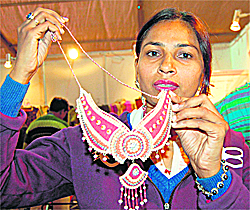 Jewellery made of jute from Bihar which was a hit at PITEX in Amritsar. Photos: Sameer Sehgal

Amritsar, December 5
More expensive items recorded a low sale at the five-day PITEX, organised by the PHD Chambers, which concluded today.

A cross section of the exhibitors said the low and moderately valued articles sold like hot cakes.

Afghanistan's Mohammad Ishaq said, "Unlike the sale of their carpets in Mumbai, Delhi and Chandigarh, a negligible number of customers procured these finest woollen hand-made carpets." He said it seemed that a majority of the people did not understand their true worth.

He said the best of silk carpets were manufactured in Iran and Kashmir in India whereas the best of woollen carpets were made in Afghanistan. He said Uzbeg women in the province of Faryab, close to Russia, in Afghanistan are engaged in making the best of traditional woollen carpets.

Cheapest carpet of 2.6x4 feet in his stock comes for Rs 5,000 while the costliest of 6x9 feet at Rs 1 lakh.

Similarly, a local manufacturer and trader Harinder Grover of Grover Impex said there were not many takers for her stall as her firm produced only quality quilts bedcover, curtain and sofa fabrics.

She said the lowest price range of an article in her stall was of an ordinary bed sheet at Rs 500.

On the other hand, the costliest was a Rs 10,000 bed sheet.

Stalls of Bihar Handicraft recorded impressive sale. Agrima Foundation's Chairwoman and founder Sujata Kumari said bags, fancy purses and jewellery, all made from jute, found favour with the visitors for daily use, durability and minimum cost.

She said stone work also remained a hit. She said the cost of some of these items was as low as Rs 10 while the highest was of jewellery set made out of jute at Rs 1,000.

Mohammad Azim of Lahore was very happy with the response of visitors for his ladies suits and sarees. He said with the brand name of Liza Traders he has been selling saris and suits with hand work in exhibitions at Delhi for the past 12 years.

He said he had almost exhausted all his stocks and would come next year with double the stock to sell in the local market. He said he managed to extract profit and could comfortably bear the cost of US dollar 1,300 to set up a stall, the charge is levied on foreign traders.

Meanwhile, the stall of International Tractors Limited, the flagship company of Hoshiarpur based Rs 5,000-crore Sonalika group, which displayed a range of tractors attracted a large number of visitors. Sonalika stall was conferred with the 'Best Footfall' award at the PITEX.

Chief Secretary, Industry & Committee, SC Agrawal, also the Chairman of PITEX, conferred the prize to Chief Area Manager, International Tractors Limited, Baljinder Sisodia.

Sisodia said the stall witnessed a footfall of over 10,000 in five days. The company displayed premium tractor models.