Free cycles scheme riding on 'bankrupt populism'
Ruchika M Khanna
Tribune News Service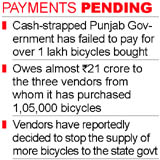 Chandigarh, December 14
The Punjab Government's ambitious Mai Bhago Vidya scheme of providing bicycles to girls studying in classes XI and XII seems to be riding on "bankrupt populism".
Even as the cash-strapped Punjab Government is going all out to distribute bicycles free of cost to school-going girls across the state, it has failed to pay for the over 1 lakh bicycles it has received from cycle manufacturers based at Ludhiana and Panipat.
The state government owes almost Rs 21 crore to the three vendors from whom it has purchased 1,05,000 bicycles since the scheme was launched earlier this year.
A payment of only Rs 9 crore has been made to the vendors who are now running from pillar to post to get their remaining dues.
These vendors have reportedly decided to stop the supply of more bicycles to the state government till they receive the entire payment for the bicycles already supplied by them.
These vendors, while requesting anonymity, informed The Tribune that because of the payments not being released to them, their other orders were getting affected.
"This delay has led to a severe liquidity crunch for us and we are unable to buy fresh raw material. Hence, we are unable to supply bicycles to the other parties that had placed their orders with us.
"Moreover, we have not cleared our dues with our raw material suppliers for the stuff bought to fulfil the Punjab government's order of bicycles. As a result, we have had to pay interest for four months on these dues as we had started buying the raw material much before we delivered the bicycles," said a Ludhiana-based vendor.
The government had announced this scheme in the Budget session and had kept a provision of Rs 43 crore for buying bicycles and distributing them to girl students of Class XI and XII studying in government schools. Later, the budgetary allocation for the scheme was reduced to Rs 30 crore for buying 1.2 lakh bicycles.
While 50 per cent of the cycles have been purchased from a vendor in Panipat, the remaining have been bought from two vendors in Ludhiana (at a cost of Rs 2,650-Rs 2,750 per bicycle).
This has been a pet scheme of Deputy Chief Minister Sukhbir Singh Badal, aimed at encouraging girl students to continue their education even if the schools are located at a distance.
Officials in the Social Security and Women and Child Welfare Department informed The Tribune that the file for grant of payment to the three vendors is pending with the Finance Department. "As a result of a cash crunch, the Finance Department has not yet released the money," said an official associated with this scheme.
Gurkirat Kirpal, Director, Social Security, admitted that payments to the vendors had not been cleared. "But we are repeatedly asking the Finance Department to clear the dues as early as possible. In fact, we have also placed another order of 9,000 bicycles with these vendors," he said.