TUNE of the young brigade
The musical tastes of youngsters today range from hip-hop, blue rap, rap, RnB to the good old Bollywood numbers as well as ghazals
Disc jockeys, who often cite complaints of being tired of playing Bollywood, actually made us delve into the musical tastes of youngsters. How often do they download and update their song lists? Any genre that is a cult hit? As of now, what the young and the restless are tuning to is nowhere near B-town!
Cheat code
A body language expert has revealed four most common ways to detect if someone is lying, with some slightly obvious answers. Men's Health non-verbal behaviour expert Marc Salem asks-Is your boyfriend staring a bit too hard into your eyes as you ask him about a lipstick stain on his shirt? Or, does your fidgety co-worker sit still at night when you inquire what happened to his soda kept in the fridge?
Dance with him…
Bollywood beats have brought celebrated choreographer Alexandre Magno to the magical world of Mumbai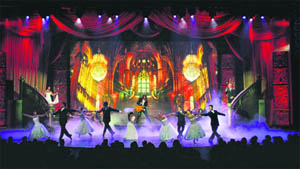 Alexandre Magno has choreographed shows for the likes of Britney Spears, Madonna and Yanni. Part of shows like So You Think You Can Dance and Dancing With The Stars, Alexandre's latest one is Zee TV's Dance India Dance Season 3. Alexandre talks about what pulled him to Mumbai from his 'demanding' world. "Everything happens at a certain time. I wanted to be a part of DID since Season 1. I approached the show producers and it clicked this season, as I was on a short break and could take out time to be in Mumbai," says Alexandre.
Lens eye
The 6th Milestone National Photo Galleria showcases some colourful pictures from around the globe
If you can't travel to all the places you wanted to, well, the 6th Milestone National Photo Galleria brings the world to you. On at the Government Museum & Art Gallery-10, this photo exhibition brings work of 17 lensmen in 39 frames. Right from City Beautiful to cobbled streets of Spanish towns, each of the pictures displayed here unfolds a charming story.
High on life
Stylish, unconventional, full of glamour— Chandigarh's first Cointreau party at S Lounge-26 was high on all three. World's most famous Orange Liqueur Cointreau found perfect hostess in April Sher Bhaimika, a versatile creative consultant from the city.
Back in action


Although A-list actors, including Salman Khan and Ajay Devgn, are busy outdoing each other on the action territory—initially created by Akshay Kumar in Bollywood - the actor himself says there is no race as such for the action hero title. Off late, Salman has emerged as the new action hero with some power packed action-masala films like Wanted, Dabangg and Bodyguard. Even Ajay Devgn flexed his muscles and punched baddies in Singham followed by John Abraham in Force.
Karan's gift to Bebo!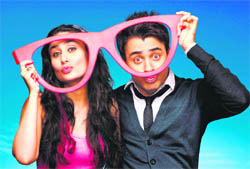 Karan Johar's film was titled Short Term Shaadi but it was changed to Ek Main Aur Ekk Tu. Though the producers are saying that it was done as they wanted a complete Hindi title there may be more to it than meets the eye. It seems that Kareena's engagement and possibly her marriage would be around that period and it would have been socially incorrect move to have a film titled Short Term Shaadi releasing during that period which stars Kareena in the lead role.
Genelia and Riteish are set for a February wedding
Genelia D'souza and Riteish Deshmukh are getting married after an eight-year-long courtship. Here are the details of the wedding that is happening in Mumbai in early February.
Expensive affair
Hrithik Roshan is training for the Krrishh sequel and it costs him Rs 20 lakh a month. That is because the trainers are American and he has put them up at Oakwood Premiere plush residential apartments in suburban Mumbai.
Searching for Sunny
Porn star Sunny Leone has been crowned India's most googled celebrity, beating Bollywood divas Katrina Kaif, Kareena Kapoor and Aishwarya Rai Bachchan. It is believed that her stint inside the Bigg Boss house has helped her to top the charts with fans searching for her five times more than Kaif, twice as many as Bachchan and nine times more than Kapoor.

Anushka uncut
Anushka Sharma has it all— looks, smile, hair, talent, body, and attitude. She shares some tips on maintaining the same with us. I have good hair genetically and I take care of it by cleaning and oiling it and only using products that suit my hair. I don't wear make-up when I am not shooting. I only use the best products and I sleep well which reflects on my skin.
Dream of a calendar girl


Indian Brazilian model Nathalia Pinheiro, who has won the Kingfisher Calendar Girl 2012 title, is eyeing Bollywood and wants to a carve a niche for herself in the Hindi film industry. She also hopes to work with her favourite actor, Shah Rukh Khan. "I am a big fan of Bollywood movies and I want to see myself becoming one of the known names, but before that I want to polish my acting, dancing and diction skills because these three things are very essential to establish a foothold in the industry," Nathalia said soon after winning the title Wednesday.
Sachin's Bigg Boss experience
As every housemate in Colors' Bigg Boss got an opportunity to meet their family members and loved ones, Sachin Shroff who met his wife Juhi Parmar in the house came away with some experiences.
Musical treat
The Chandigarh Sangeet Natak Akademi is all set to present the best songs immortalised by legendary singers in its sixth edition of the musical bonanza Yaadon ki Kasak. The annual programme, dedicated to senior citizens, is their endeavour to pay tributes to the legends of the music world.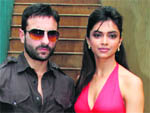 Love in Turkey
Saif Ali Khan and Deepika Padukone will do love scenes in Race 2. They are comfortable with each other and will shoot their intimate scenes in Turkey. Hrithik Roshan is training for the Krrishh sequel and it costs him Rs 20 lakh a month. That is because the trainers are American and he has put them up at Oakwood Premiere plush residential apartments in suburban Mumbai.
chatter box
Soumya will dance again


Television actress-cum-anchor Soumya Tandon, who became famous post her role of Kareena Kapoor's sister in the super-hit film Jab We Met, has been sticking to hosting shows on television. This Punjabi kudi is happy to be back on small screen with Zee TV's upcoming dance reality show Dance India Dance Season 3. She will be anchoring the show with her naughty co-host Jay Bhanushali.
New Releases
Pappu Can't Dance Saala
Producers: Ravindra Singh, Sameer Nair
Director: Saurabh Shukla