Dance with him…
Bollywood beats have brought celebrated choreographer Alexandre Magno to the magical world of Mumbai
Mona
Alexandre Magno has choreographed shows for the likes of Britney Spears, Madonna and Yanni. Part of shows like So You Think You Can Dance and Dancing With The Stars, Alexandre's latest one is Zee TV's Dance India Dance Season 3.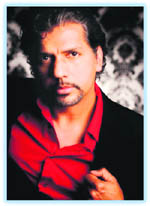 Alexandre talks about what pulled him to Mumbai from his 'demanding' world. "Everything happens at a certain time. I wanted to be a part of DID since Season 1. I approached the show producers and it clicked this season, as I was on a short break and could take out time to be in Mumbai," says Alexandre.
The two weeks that Alexandre slotted for DID have been amazing fun so far. "The contestants on the show surely have the potential to prove that they are born to dance. I see many future stars," says Alexandre whose style has been shaped from a variety of disciplines and cultural influences.
Not just a choreographer, Alexandre is a short film-maker, producer and a director as well. "In the US, the choreographer does not have the same liberty as I have experienced in India," he says.
Counting the highs in life, Alexandre puts two of Madonna's Drowned World Tour (2001) and The Girlie Show World Tour (1994); The Pussycat Dolls Sway, Britney Spears Breathe On Me and Academy Awards show, as closest to his heart.
"What I do is more of fusion of Hip-hop, Jazz, Ballet, Samba, Flamenco, Tango, Salsa, Martial Arts and more," says Alexandre who easily moves between theatre, television and films. A master story-teller based out of Los Angeles, he has been giving superlative work for the last two decades and continues to do so. "I create because my soul needs to expand beyond my body...it needs to be free and that freedom only comes with work."
mona@tribunemail.com
India unearthed
Alexandre Magno is smitten by his India experience, "I value India for its ancient and rich culture. There are layers and layers of tradition. It's fascinating for an artiste. I am overwhelmed with the beauty as well as the huge opportunity to learn."
Brazilian roots
A Brazilian by birth, music and dancing is second nature to Alexandre. Having lived half of his life in Brazil and the other half in Los Angeles, Brazilian influence is marked in his work. "Music and dance is an integral part of our day-to-day life, eating, drinking and thinking. It runs in our veins. It's just not possible to be in Brazil and not be exposed to music. So being a choreographer was just a step ahead of my basic nature."