Rahul steps in to support retail FDI
For the first time, Cong gen secy says govt move would help farmers
Shahira Naim/TNS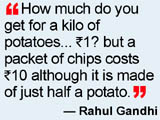 Farukhabad, December 16
Congress general secretary Rahul Gandhi chose this "highest potato growing district in the country" to break his silence on the contentious Foreign Direct Investment (FDI) in the retail sector.
Mounting a vigorous defence, the move, he said, would help farmers. Political parties opposing the move, he said, were "anti-farmer".
This is for the first time that the Gandhi scion has spoken in favour of FDI in retail. Congress chief Sonia Gandhi has so far maintained silence on the issue. The two remained quiet even when Prime Minister Manmohan Singh defended the move at the Youth Congress convention in Delhi last month.
Several Congress MPs and Union ministers have opposed the move and argued that it would adversely affect the Congress in poll-bound Uttar Pradesh. By coming out openly in support of the government initiative, Rahul today sought to put an end to speculation that the Congress was not entirely behind the PM on retail FDI. He has also sent out a strong message to critics like Sanjay Singh, a Congress MP from UP, and Union ministers such as Vyalar Ravi, to fall in line.
The Congress appears to have caught the bull by its horns in view of the public opposition to retail FDI by both the ruling Bahujan Samaj Party in UP and its principal opposition, the Samajwadi Party.
BSP chief Mayawati had even alleged that the move was meant to help Gandhi's "foreign friends". Rahul's spirited support for FDI, while at the same time pitching the Congress as "pro-farmer", would mean that the issue would prominently figure in the UP poll battle.
"How much do you get for a kilo of potatoes," asked Rahul before answering, " Rupee one; but a packet of chips costs Rs 10 although it is made of just half a potato." FDI would enable farmers to sell directly to the retail outlets and at higher prices, he emphasised. There is a glut of potatoes in the country and a large portion of the produce would be wasted in the absence of proper infrastructure and retail chain, Gandhi pointed out.
Lashing out at the NDA, he said that the NDA,which had declared "India Shining", had ignored the plight of the farmers. "Earlier there was shortage of funds but not anymore. Funds worth thousands of crores have been sent to the state, only to be gobbled up by an elephant in Lucknow," he declared in a pointed reference to the BSP's electoral symbol.
Criticising Mulayam Singh Yadav for his anti-computer and anti-English posture, the Amethi MP questioned why these things were not right for the poor but alright for his son, Akhilesh Yadav, who speaks English and is also computer savvy.