Govt allows use of plots for commercial purpose in Shoghi industrial area
Shimla, December 24
Considering the strict restrictions on land purchase in Himachal Pradesh, the benevolence being showered by the government in allowing use of industrial plots for commercial use in the Shoghi industrial estate could see 5-star hotels, multiplexes, conference halls and training institutes come up side by side with the few existing industries.
Minister threatens to withdraw incentives to cement firms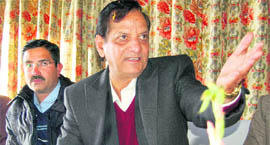 Dharmasala, December 24
Despite pressure exerted by the Minister for Industries, Kishan Kapoor, the cement companies have not given any assurance to the government of reducing cement bag prices in the state.


Industries Minister Kishan Kapoor addresses mediapersons in Dharamsala on Saturday. Photo: Kamaljeet

Hamirpur residents pay the highest price
Hamirpur, December 24
Hamirpur residents are forced to buy a bag of cement at Rs 327 in retail where as in most parts of the state cement is selling between Rs 290 to Rs 295 per bag. The two major manufacturing companies --- Ambuja Cement Company Darlaghat and Associated Cement Companies (ACC) unit Barmana --- which are the main sellers of the cement in this region, have kept the retail price of the cement bag in Hamirpur at Rs 327 per bag.
Just vested interests opposed to private varsities: CM
Dharamsala, December 24
Under Opposition attack, Chief Minister Prem Kumar Dhumal has defended the opening of private universities in the state.
Contractual lecturers up in arms against recruitment policy
Mandi, December 24
The Commissioned Contract Lecturers' Association (CCLA) ha decided to launch a common front with state's over 15,000 contract employees against the government, challenging its contract policy and the different recruitment and promotion (R and P) rules for the same posts in the same department.
Doubtful integrity list: DGP told to give details of police officers
Shimla, December 24
The HP High Court has directed the Director-General of Police to furnish details of the police officers whose names figure on the current ODI (officers with doubtful integrity) list with their places of posting.
Little Santas bring joy to hospital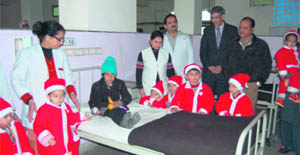 Kangra, December 24
Children of the staff of Dr Rajendra Prasad Government Medical College and Hospital (Dr RPGMC), Tanda, in the age group of 3 to 4 years, studying in the playway school being run by the Dr RPGMC Educational Society came out of their playing arena to celebrate Christmas with their counterparts admitted in the children's ward of the hospital.
Children dressed as Santa Claus distribute sweets among kids at the children's ward of the Dr RPGMC in Tanda on Saturday. Photo: Ashok Raina

Forest officials rescue leopard caught in snare
Dharamsala, December 24
Forest Department officials saved a leopard at Banghali village in the Palampur forest range on late Thursday evening.
BJP misleading PTA teachers: Congress
Shimla, December 24
The Congress today accused the BJP of politicising the issue of appointment of PTA teachers as they had been appointed during their rule.
NCC national integration camp ends
Shimla, December 24
The All-India National Integration Camp being held here at the local Bishop Cotton School (BCS) yesterday concluded with NCC cadets from across the country taking part in it.
Missing man found dead
Nurpur, December 24
A corpse was found in a forest near Indora in this sub-division on Friday. According to information, some local women went in the forest to collect firewood when they spotted the corpse.
Thieves decamp with jewellery worth Rs 2.5 lakh
Mandi, December 24
The burglars broke into a house of Sujata Devi, a resident of Fatoh, Baldwara in Sarkahat and decamped with jewellery worth Rs 2.50 lakh on Friday.