No end to water woes of Solan
Solan, December 26
There appears to be no end in sight to the water woes of Solan and its surrounding areas which are being served by the Rs 64-crore Giri Lift Water Scheme as the transmission wing of the HP State Electricity Board is yet to award tenders for setting up a substation for the scheme.
'Anti-corruption movement seeks new democracy'
Kangra, December 26
Prashant Bushan, member, Team Anna, said a decisive phase of the anti-corruption movement had started for seeking the establishment of that democracy in the country in which people would directly decide the kind policies, laws and important decisions that needed to be taken.
CPM to hold statewide protest on Jan 9
Mandi, December 26
The state CPM, which yesterday elected its 25-member state committee, announced to hold a statewide agitation against privatisation, closure of ration shops and the "failure" of the state government to keep a check on rising cement prices on January 9.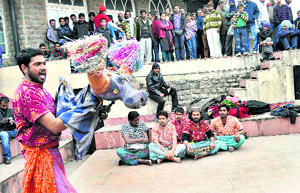 Artistes from Chandigarh perform in a play 'Khule Aam Share Aam' in Shimla on Monday. Photo: Amit Kanwar
Bal Ashram kids presented gifts
Shimla, December 26
The State Bank of India (SBI) organised a function at the Tutikandi Bal Ashram to celebrate Christmas here today. Chief General Manager NK Chari, who was the chief guest, presented the inmates with a 42" LED television set and heat pillars. Addressing the gathering he said the facility of television would not only provide a source of entertainment to the children, but also enable theme to gain knowledge about the latest developments.
Turnover of civil supplies corporation up by 8 per cent
Shimla, December 26
The sales turnover of the State Civil Supplies Corporation has increased by 8 per cent in the first eight months of the current financial year.
Mock drill on fire incidents held
Shimla, December 26
A mock drill on emergency preparedness and quick response was organised at the state secretariat premises here today to sensitise employees and train them in protective measures in disaster situations like fire, unforeseen incidents and other mishaps.
High-yielding hybrids for mushroom developed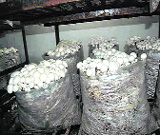 Solan, December 26
Scientists of the Dr YS Parmar University of Horticulture and Forestry, Nauni, have achieved a rare feat by developing high- yielding hybrids of white button mushroom through crossing.

White button mushrooms developed by scientists of the Dr YS Parmar University of Horticulture and Forestry, Nauni. Photo by writer
Leopard caught in residential area
Bilaspur, December 26
A team of the Forest Department officials, led by Range Officer Garja Ram, caught a leopard which had attacked a hen cage of Prem Singh of Sandyaar village under Chhatt gram panchayat in Ghumarwin here today. The leopard entered the cage in the wee hours. They immediately closed the door of the cage.
24 cases solved at Janta ke Dwar camp
Bilaspur, December 26
Only 24 cases of grievances, difficulties and problems of villagers could be solved out of a total of 165 cases presented at the district-level day-long Prashashan Janta ke Dwar camp held at Kandraur near here yesterday.


Parroting lessons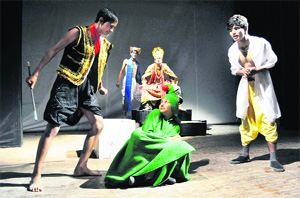 Artistes perform in a play "Parrot's Training" directed by Kedar Thakur at the Gaiety Theatre in Shimla on Monday. Photo: Amit Kanwar
156 illegal constructions removed
Chamba, December 26
In the wake of state government's directives to demolish illegal constructions and encroachments on the government land, the warrants of ejection have been executed in 156 such cases at various locations in Chamba district. Of these, Chamba tehsil has the highest number of 63 cases and the Dalhousie tehsil has 38 cases, besides other parts of the district.
CM mourns Mahavir Chakra awardee's death
Shimla, December 26
Chief Minister Prem Kumar Dhumal has expressed grief over the death of Mahavir Chakra awardee of the 1971 Indo-Pak war, Brig AN Sharma, who was killed in an accident near Chandigarh two days ago.
Freedom fighter's last rites performed
Kangra, December 26
The Indian National Army (INA) freedom fighter sepoy Jagat Bahadur Gurung (90), a resident of Chanmari village near Dharamsala, died at Siddhbari yesterday and his last rites were performed with state honours at his native village Sidhpur today.