5-yr-old girl run over by truck
Amritsar, December 28
A five-year old girl was run over by a speeding tractor-trolley at New Preet Nagar located at Batala road here last evening. The victim identified as Pooja was playing in the street at the time of the accident. She was immediately rushed to the hospital where she was declared brought dead. The driver of the trolley, identified as Raja, a resident of Rasulpur Kallar village, fled from the spot leaving his tractor behind.
5 years on, no refund of Rs 8-cr user charges for GMC
Amritsar, December 28
There seems no money-back guarantee for the local Government Medical College as it is constantly pleading with the state government to get back Rs 8.25 crore, which were collected as user charges at Guru Nanak Dev Hospital.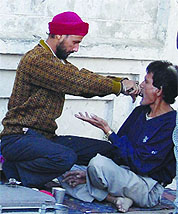 Dental quacks rule the roost
Amritsar, December 28
There are many who still believe that quacks are better than doctors in Amritsar. Quacks, claiming prowess in dentistry, have a flourishing business in the city which has two reputed dental colleges-cum-hospitals --- Guru Ramdas Dental College and Government Dental College. Even as there are laws to check quackery, the makeshift dental clinics of these quacks are no secret here and these can be seen at several important places in the city. Whether it is near the local railway station, outside the Golden Temple or bus stand, these quacks can be seen curing people of tooth ailments while sitting on a bed sheet.

A roadside quack extracts teeth of a man in Amritsar. Photo: Sameer Sehgal

2 held on robbery charge
Amritsar, December 28
The police has arrested two persons allegedly involved in robbing labourers hailing from other states of their belongings and earnings. However, one of their accomplice escaped from the spot. Those accused are Bablu, a resident of Nangali and Kali of Bhaini Gillan. Their third accomplice Sonu of Naushera Colonia dodged the police and ran away.
Voting is A right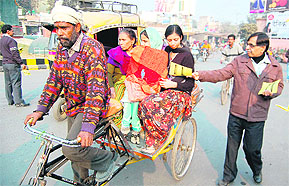 Come out vote or keep mum for five years
NGOs form a civil rights group to spread awareness on importance of voting
Amritsar, December 28
Various city-based NGOs have formed a civil rights group 'Joint Effort' to awaken electorates regarding use of their voting right in the forthcoming Assembly election in the state.
Vote for ballot: Members of the Joint Effort distribute pamphlets motivating people to vote in Amritsar on Wednesday. Photo: Sameer Sehgal

Think adventure, live adventure
Amritsar, December 28
For someone who believes in living dangerously or not living at all, mountaineering, off roading, biking, trekking, sky diving are just routine activities. Enjoying a group hug at a height of 5000ft, keeping the spirits high at temperatures lower than -10 degree or putting the Man Vs Wild episodes to practice in real life.


'Say no to drugs'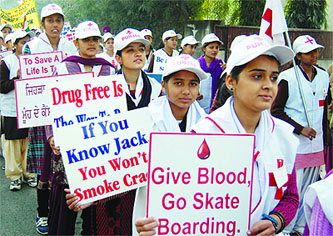 Students take out a rally against drug abuse under a National Youth Exchange Programme of the Indian Red Cross Society in Amritsar on Wednesday. Tribune photo: sameer sehgal

Govt Dept sitting over funds
4 months on, consumer awareness groups yet to get Rs 1-lakh fund
Amritsar, December 28
The seriousness of the government in creating awareness among general public for consumer rights can be assessed from the fact that a fund of over Rs one lakh meant for the consumer awareness groups has not been disbursed even after four months.
City lads shine at Harivallabh Sangeet Sammelan
Amritsar, December 28
City lads Sumit Singh Padam and Hargun took part in the recently concluded 136th Shri Harivallabh Sangeet Sammelan in the senior category competition at Jalandhar. Sumit won the first position in sitar (classical instrument non-percussion category) while Hargun was adjudged first in the junior category (vocal) for her performance in classical singing.
RTI activist alleges police inaction, writes to SSP
Amritsar, December 28
Alleging police inaction, an RTI activist has written to the Senior Superintendent of Police, Amritsar rural police, Director General of Police, IG and DIG, Border range, to cancel a "false" case registered against him and his supporters.
Khadoor Sahib Academy eves beat Chandigarh Academy
Amritsar, December 28
Women hockey team of Khadoor Sahib College beat Chandigarh Academy 2-1 in one of the four matches played on the fourth day of the 9th ONGC All India Maharaja Ranjit Singh Junior Gold Cup Hockey Tournament being held at Guru Nanak Dev University hockey ground today.
Daljit Kaur wins gold in senior national boxing
Amritsar, December 28
Daljit Kaur, a student of BA second year of Khalsa College for Women (KCW), won a gold medal in the recently-concluded Senior National Boxing Championship held at Puducherry.
3 held for gambling
Amritsar, December 28
The police raided a residential complex near Jawala Floor Mills in Islamabad area and arrested three persons allegedly involved in gambling and recovered Rs 26.10 lakh from the spot.
BBK DAV students take part in Panj Sarovar walk
Amritsar, December 28
The students of Masters in Tourism Management of BBK DAV College for Women took part in Panj Sarovar walk today. The walk was started by the Punjab Heritage and Tourism Promotion Board (PHTPB) recently.