M A I N N E W S
Commandos to protect tigers in Karnataka
Shubhadeep Choudhury/TNS


COUNTRY's FIRST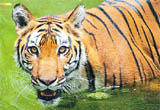 n Fifty-four personnel were given three-month training to provide them with skills such as how to survive in the jungle and use of weapons like SLR, assault rifles, LMG and grenades
n The STPF unit will be divided into three groups and will be solely responsible for taking anti-poaching measures, including the power to shoot
n After Karnataka, Orissa is next in line for raising a Special Tiger Protection Force for its Simlipal tiger reserve
Bangalore, January 4
Karnataka acquired the distinction of being the first state in India to deploy a commando unit — Special Tiger Protection Force (STPF) — to protect its big cat population from poachers.
Fifty-four personnel of the STPF - consisting of 40 guards and 14 deputy forest range officers - yesterday received certificates of their commando training from Karnataka forest minister CP Yogeswar here. They are being deployed immediately to Bandipur and Nagarhole tiger reserves of Karnataka to get going with their job of fighting the menace of poaching.
Viswanatha Shetty, Principal at the Karnataka Armed Police Training Centre here, said the STPF personnel were given a three-month training, including one and half months of commando training, to provide them with such skills as survival in jungle and use of weapons like SLR, assault rifles, LMG and grenade. They were also taught about various aspects of the forest and wildlife laws.
Karnataka Principal Chief Conservator of Forest (Wildlife), BK Singh, said the 54 personnel would be divided into three groups and stationed at three locations in the two contiguous national parks (Bandipur and Nagarhole). He said 54 more STPF personnel would be recruited shortly to strengthen the existing deployment of the STPF in the two contiguous tiger reserves.
The commandos will be armed with .315 rifles. When a commando reaches the age of 40 years, he will be taken off from STPF duty and assigned other job under the Forest Department.
Rajesh Gopal, member secretary of the National Tiger Conservation Authority (NTCA), complemented Karnataka for taking the initiative of forming the first STPF for which the entire expense would be borne by the Central government.
Gopal said 13 tiger reserves spread across seven states had been chosen for this project of having trained commandos for protection of its precious tiger population. He said after Karnataka, Orissa was next in line for raising STPF for its Simlipal tiger reserve.
HS Negi, IGP with the NTCA, said 22 tigers lost their lives in the hands of poachers in 2011. Gopal said use of body parts of tigers for traditional Chinese medicines was one of the most important reasons for poaching of the big cat. "The business of tiger pelt is not popular any more", Gopal said.
In 2008, the Centre had given a one-time grant of Rs 50 crore to the NTCA for raising, arming and deploying STPFs in 13 sensitive tiger reserves - Dudhwa-Katerniaghat, Corbett, Ranthambore, Pench, Kanha, Bandhavgarh, Pakke, Bandipur-Nagargole, Tadoba Andhari, Mudumalai, Kaziranga and Simlipal.
Karnataka has a good density of tigers. The recent census in Karnataka showed a population of over 300 tigers, of the total 1,700 in the country.
According to statistics, since January 2006, more than 48 tigers have died in Karnataka including 25 tigers killed by poachers. The STPF, equipped with firearms, binoculars and wireless sets, is expected to prove a serious deterrent to poaching.
The STPF unit will be divided into three groups and will be solely responsible for taking anti-poaching measures and will have the power to shoot.