Young & happening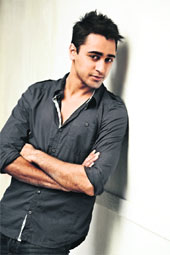 Imran Khan, tells us how he has enjoyed working with his favourite actress Kareena Kapoor in his upcoming venture Ek Main Aur Ekk Tu
From Jaane Tu Ya Jaane Na to the controversial Delhi Belly, we have seen the young Imran Khan taking it all as a learning experience. Promoting his upcoming movie Ek Main Aur Ekk Tu, Imran Khan gets talking on his experience in Bollywood till date. Imran's debut Jaane Tu Ya Jaane Na was a huge success…how did he feel after he received such a response? "I never expected it to be a blockbuster and thought that it would be a small film, which might go unnoticed. I never plan for things ever in my life."
Warm welcome
Winter of discontent for brides? No way, say designers
The chilly winter and bridal wear might seem an oddity. But not any more, thanks to the modern-western fusion by designers who have created layered outfits, embellished jackets, heavy saris teamed up with corsets and much more in velvet and brocade for brides to enjoy a perfect winter trousseau exuding style, glamour and attitude.
Here are a few Chandigarh-based architects who share notes with Jasmine Singh on what is new in designing
Of spaces, lines and designs
Imagination—have it in your mind and see how it creates reality! Let it flow on a piece of paper - lines, shapes, spaces - and see how it spins creative stories. Now, imagine yourself living in one of these creative things - subtle interiors, prismatic diffusion from the glass…whiff of fresh air brushing across the sheer curtains!
On a role
We bring you a list of roles of actors and actresses that we are looking forward to...

Salman calls the shots
Salman Khan rules the Bigg Boss house. He is not present for every episode and Sanjay hosts the show now but Salman clearly calls the shots. The team of Bigg Boss and Sanjay Dutt thought it would be a good idea to promote Agneepath at the grand finale of the show. Obviously, Hrithik Roshan would be present along with Priyanka Chopra and Karan Johar. That is when Salman put his foot down. He doesn't like Hrithik Roshan. He has declared that Imran Khan will promote Ek Main Aur Ekk Tuu on the show instead of Agneepath. Both films are produced by Karan Johar.
Boyfriend blues
Singer-actress Jennifer Lopez's dancer boyfriend Casper Smart has been sentenced to one year probation for illegal drag racing. Smart, 24, was scheduled to be sentenced for his April 2010 arrest on January 5, his attorney advanced the case by two days, reported a magazine.

Ready to mingle
Socialite Paris Hilton says British guys are "really hot" because they are "such gentlemen". Hilton, 30, who is currently single, said she loves spending time in London and is particularly a fan of UK males, a website reported.
Plain Jane
Actress Raveena Tandon will be seen in a de-glamourised role in her upcoming bilingual film Gin Liya Aasman. "Now headed for the shoot, last four day schedule of Ginn Liya Aasman, turning out to be a sweet film, am in my non glamorous avataar, the Day begins," Raveena wrote on twitter.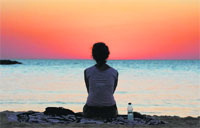 TROUBLE SHOOTER
It's all in the mind
I am planning to finish my MBA and though I am doing well, I feel unsure. I am conscious of my looks and body (I am average looking) and at times feel scared about how I will be able to lead people. Do I need psychotherapy?  
Silk saga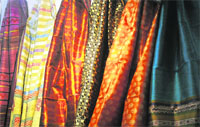 Smitten by silk but hardly get to wear those intricately crafted, rich saris that mother packed in your trousseau? Well, if your wardrobe lacks in this classical fibre (except, say, some silken scarves) make some space for silk denims and knits! Silk Mark Expo is soon coming to Chandigarh again. Some 55 stalls with wares from 17 states will have not only all four varieties of silk — Mulberry, Tassar, Muga and Eri — but also a range of raw silk, yarns, fabrics, sarees, made-ups, garments and also carpets.
Crash landing
Loads of women, who turn to intensive crash diets in order to shed weight gained over the festive break, could eventually end up gaining more weight, according to a study. Findings have revealed that average 'crash' diet lasts just 15 days and 35 per cent say they end up putting on more weight than they lost, with an average 4.7 pounds creeping back on post-diet.
Winners take it all

Chandigarh Lalit Kala Akademi has announced the names of the award winners for the Annual Art Exhibition 2011. Hirdey Prakash Kaushal, Lakhwinder Singh and Randeep Singh have been selected in the professional category while in the student category five artists—Arnav Anand, Ruchi Sharma, Sanjay Kumar, Sonal Garg and Shilpy made it to the winner's list. The two person jury consisting of well known artists Nagji Patel from Vadodra and Amitava Das from Delhi recommended the names.
Eggs for fitness


Eggs are a powerhouse food - packed full of natural proteins, vitamins, minerals and other essential elements required for a complete and balanced diet. Eggs are an ideal food for sportspeople, vegetarians (eggetarians), and people who care about their health. However, over the time eggs have got a really bad publicity. And as far as some nutritionists are concerned, eggs are devils in shells. Deemed bad for the heart by health experts, eggs have been the subject of criticism and scrutiny.
TRENDSETTER
Whiff of confidence
Style is about looking good even on a bad hair day. However, looking good is not everyone's cup of tea. For Isha Mittal, a young MBA graduate, it is about looking stylish always. Here is her take on fashion, style and everything else.

Baby's den
Actress Lara Dutta, who is expecting her first child with husband Mahesh Bhupathi, is busy setting up her house for the new arrival. The 33-year-old former Miss Universe, who married the ace tennis player last year, is due for delivery next month. "It's fun having my parents here and getting the house baby (sic) ready! Anticipation and excitement in the air! Feels good to start 2012 like that," Lara posted on Twitter. — PTI

Neil's new girlfriend?
Neil Nitin Mukesh apparently has a new girl in his life and she is based in Delhi. That is the reason the actor is going to Delhi often.
Musical chairs
Sudhir Mishra wanted Chitrangda Singh to play the lead role in Mehrunnisa, his next film, but UTV wants to choose between Vidya Balan and Katrina Kaif. Who will get the role?
Star war
Saif Ali Khan's much-awaited Agent Vinod will finally release on March 23. Ajay Devgn's Tezz is also releasing on that day and both are action films.

The great walk-out
Vidya Balan's star power has increased manifold post the success of The Dirty Picture. She has walked out of Shootout at Wadala because it is a male-dominated film and the role isn't worthy of her talent and presence.
All is well?
Buzz is that all is not well between Farhan Akhtar and Riteish Sidhwani, who are friends turned production partners. They are having problems with their staff members. We hope everything is sorted out.
Heavy price
Kolaveri Di is a rage today but composer Dhanush didn't see that coming when he composed the song. He sold the rights of the song for a very small price.

Strange taste
Jacqueline Fernandez refused to kiss Hrithik Roshan in the Krrishh sequel but she locked lips with Emraan Hashmi in Murder 2 and will also kiss John Abraham in Race 2. Why would any girl choose these guys over Greek God Hrithik?
Chatter Box
Winner of Rs 5 crore in Kaun Banega Crorepati, Sushil Kumar, will be part of a documentary film which will be shot in the UK. A British filmmaker has shown interest and he too is considering the same. Meanwhile, this new celebrity got offers to be part of New Year's parties which he refused while he accepted to do a film for Mahatma Gandhi National Rural Employment Guarantee Act in Motihari which will showcase his transition from a small-town boy to a Crorepati directed by Chris Tarrant and Keith Strachan.
The year ahead
If your birthday is January 5...
You'll have to deal with a talkative colleague who'll try to impose his or her will on you. You'll have a tendency for perfection and will irritate your loved one. If you wish to undertake something new, you must consider difficulties which will arise especially in the beginning. Patience and faith in your goals will help you but will not be enough, you must choose someone who can help you and accept the advice of others with benevolence.
Astro Turf
ARIES: Put knowledge into practice or learn how to do something better. Children may enjoy the company of their parents. Be wary of totally blowing a diet or becoming overtly indulgent. Tarot message: Plan your life to avoid the in built delays that come your way. Lucky colour: Peacock green. Magic number: 29