IAF helps restore power in Valley
Jammu, January 10
Even as a major part of the Kashmir valley remained without power for over three days, the Indian Air Force worked tirelessly to restore the supply to a major part of the Valley by putting into service its flying machines to fix the transmission lines.
Govt mismanagement led to power crisis: Mehbooba
Srinagar, January 10

PDP president Mehbooba Mufti today said the Kashmir valley was facing power crisis this winter because of the "mismanagement" of the government. "During the PDP tenure, we had 500 MW less available, but still people did not face any problems. During out time, the management was better, but this time the crisis is due to the mismanagement," Mehbooba said while addressing a press conference at her Gupkar residence here.

PDP president Mehbooba Mufti addresses a press conference at her Gupkar residence in Srinagar on Tuesday. Photo: Amin War

Govt urged to install transformer at Kalakote
Jammu, January 10
Ravinder Sharma, general secretary and spokesman of the Jammu and Kashmir Pradesh Congress Committee (JKPCC), has urged the government to expedite the process of installation of 50 MVA transformer at Kalakote.
BSNL yet to restore Net services in
Udhampur, January 10
A large number of subscribers in Doda and Kishtwar districts will have to wait for the restoration of the broadband services of the BSNL as repair of the optical fibre cable (OFC), damaged during heavy snowfall, may take some more time. Though the landline and mobile phone connectivity of the BSNL is in order, the snapping of the Internet services has affected individual and institutional subscribers, including banks and insurance companies, in both districts.
Promoting Tourism
Delegation hard-sells Kashmir
Dubai, January 10
Asserting that picturesque Kashmir is a safe a tourist destination, the Jammu and Kashmir government has welcomed visitors from Saudi Arabia and other Arab nations to experience the "Paradise on Earth".
Govt mulls buying back Uri, Salal hydel projects: Minister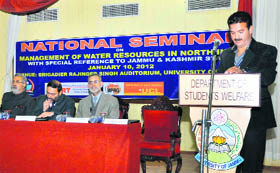 Jammu, January 10
The government is mulling over buying back the Uri and Salal hydel projects on a depreciated value from the National Hydroelectric Power Corporation (NHPC) to make J&K surplus in power generation.

A speaker delivers a lecture during a national seminar on "Management of Water Resources in North India" at University of Jammu on Tuesday. A Tribune photograph

Army Commander meets troops along LoC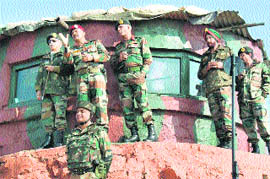 Jammu, January 10
GOC-in-C of the Northern Command Lt Gen KT Parnaik visited the troops deployed on the Line of Control (LoC) and in the far-flung areas of the Jammu region today. He was on a two-day visit to White Knight Corps and was accompanied by his wife, Anagha Parnaik, regional president of the Family Welfare Organisation (FWO), Northern Command.
Lt Gen KT Parnaik, GOC-in-C of the Northern Command, at a forward post along the Line of Control in Jammu on Tuesday. A Tribune photograph

Unions rally behind PDD protesters
Jammu, January 10
A day after the police foiled their Civil Secretariat march, in the twin capital cities of the state, the protesting daily wagers of the Power Development Department (PDD) today got support from other employees' unions of the department.
Crisis Management
Govt adopting double standard, says BJP
Jammu, January 10
Accusing the NC-led coalition government of adopting double standard and regional discrimination while dealing with protesters and crisis, chief spokesperson of the state BJP Jitendra Singh said the government was not treating all regions equally.
Justice Kohli meets Governor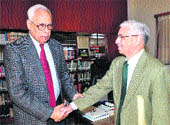 Jammu, January 10
Chief Justice of the Sikkim High Court Justice Pramod Kohli met Governor NN Vohra at Raj Bhawan here today. This was Justice Kohli's first meeting with the Governor after his elevation as the Chief Justice of the Sikkim High Court recently.
Governor NN Vohra shakes hands with Pramod Kohli, Chief Justice of the Sikkim High Court, during a meeting in Jammu on Tuesday. A Tribune photograph

Festivity in Ladakh amidst snow
Losar celebrations to ring in New Year conclude
Leh, January 10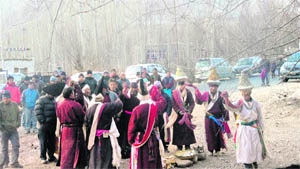 Even as surface connectivity remained affected due to the closure of high passes and temperatures remained at sub-zero levels — with some areas witnessing mercury as low as -20 °C — the centuries-old traditions of celebrating Losar, or the New Year
Traditional dancers called Karoks perform a dance during Losar celebrations at Basgo village in Ladakh. A Tribune photograph


In-laws held for setting bride afire
Udhampur, January 10
The police today arrested the in-laws of Pinky Devi, who was allegedly burnt alive in the presence of her mother-in-law and father-in-law, at their house in Udhampur.