PUNJAB

HARYANA

JAMMU & KASHMIR

HIMACHAL

REGIONAL BRIEFS

NATION

OPINIONS

LETTERS

BUSINESS

SPORTS

WORLD


School owners told to install GPS in buses
Jhajjar, January 12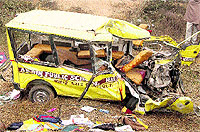 Learning a lesson from the Ambala road mishap wherein as many as 15 school kids were killed owing to head-on collision of the bus with a speedy truck recently, the district authorities have directed all the owners of private schools located in the district to adopt all security measures which have been made mandatory in the rules for the transportation service to ferry schoolchildren.
Haryana against petro products, alcohol under GST
Chandigarh, January 12
Haryana has serious reservations about the inclusion of petroleum products and alcohol in the GST regime as it will affect the state's revenue.
Emu-rearing gaining popularity in state
Hisar, January 12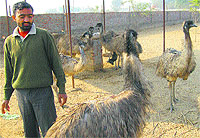 Emu-rearing is gradually gaining popularity in Haryana. About 100 farms of this bird of Australian origin have already come up in various parts of the state. Hisar district has eight emu farms.

A farmer tends to emus at his farm in Dhiktana village near Hisar.

Some tourist complexes in the red
January 10, 2012
Plan to make Bhindawas Lake international tourist spot
January 6, 2012
Canal network to be rehabilitated
January 3, 2012
Kaithal hospitals in pitiable state
December 27, 2011
Sex ratio gets better in Jind
December 23, 2011
Rs 1-lakh reward for two villages
December 20, 2011
Fate of Haryana police PROs hangs in limbo
December 16, 2011
Crime on the rise in Rohtak
December 13, 2011
Decide alternative plot allotment, HUDA told
December 9, 2011
Wait for information keeps getting longer
December 6, 2011