Cong rebel's kin give Oscar a tough time
Balwant Garg/TNS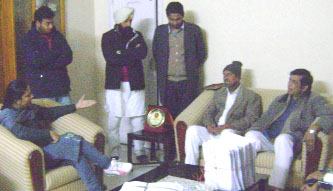 Oscar Fernandes faces a volley of tough questions from Upinder Sharma's daughter Shivani in Faridkot on Saturday. A Tribune photograph

Faridkot/Kotkapura, January 14
Will he, won't he? All day, rumours kept flying thick and fast in Faridkot and Kotkapura towns today about the possibilities of Upinder Sharma, a senior Congress leader and former jail minister, contesting or not contesting the assembly election as an independent candidate.
After he was denied the party ticket, Upinder Sharma is contesting as an independent from the Kotkapura seat. To prevail upon Upinder Sharma to withdraw his nomination papers in favour of the Congress candidate, today, Oscar Fernandes, general secretary, All India Congress, reached Faridkot.
However, once Upinder Sharma got whiff of the senior Congress leader reaching Faridkot, he switched off his mobile phone and went underground in the morning.
Waiting in vain for many hours for Upinder Sharma to emerge and have a meeting with him today, Oscar Fernandes, accompanied by some senior party leaders, finally reached Sharma residence in the evening.
At Upinder's home, his daughter, Shivani, confronted Oscar Fernandes with some uncomfortable questions for denying party ticket to his father and giving ticket to Ripjeet Singh Brar, the younger brother of senior Congress leader Jagmeet Singh Brar.
After a 30-minute stay in Upinder's house, when Fernandes failed to pacify Shivani and meet Upinder Sharma, a 'dispirited' Fernandes left his house.
Since morning today, rumours were afloat about Upinder Sharma surrendering his claim, succumbing to party pressure.
While earlier, the family members were maintaining a stony silence in the evening, Saurav Sharma, his son, denied that his father would withdraw his nomination papers.
"In the last assembly elections in 2007, my father surrendered his claim on the Kotkapura as per the direction's of the party high command to vacate the place for a green-porn in politics. My father was promised the ticket this time but all promises proved to be false," said Saurav.
Upinder Sharma had won the Kotkapura seat in the 1992 elections and got the portfolio of the jail minister.