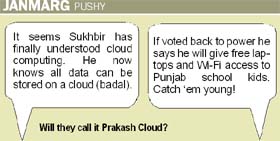 Milkha donates '60 Olympics shoes for charity auction
Chandigarh, January 23
Flying Sikh Milkha Singh had never thought that one day his 'priceless shoes' would bring a smile on faces of children of a lesser god. The living legend donated the golden spikes he wore during the 1960 Rome Olympics for a charity auction in Mumbai on February 11, to be organised by an NGO run by actor Rahul Bose.

A sketch is out
Panchkula, January 23
The district police today released a sketch of one of the accused who robbed an elderly couple at their home in Sector 6 here yesterday. The police was yet to get any breakthrough in the case. Deputy Commissioner of Police (DCP) Maneesh Chaudhary formed a special team, headed by Kalka Assistant Commissioner of Police Krishan Hooda, to nab the accused.
The elderly easy target of criminals
Panchkula, January 23
Elderly people in Panchkula seem to be a soft target for criminals. Before yesterday's incident of robbing the old couple, at least such three local residents, including a couple, have been stabbed to death at their homes for money during the past four years.
12th plan
Admn seeks Rs 4,000 crore
Chandigarh, January 23
The UT Administration is seeking a budget of around Rs 4,000 crore under the 12th Five-Year Plan to give a major boost to development in the core areas of health, education and infrastructure, especially in southern sectors.
Water audit in the offing
Chandigarh, January 23
Alarmed at the rapidly dipping underground water level and the absence of relevant data, the local Member of Parliament, Pawan Kumar Bansal, today asked the municipal corporation (MC) to submit a water audit before the next meeting of the House.
MC House meeting
Councillors go vocal on sanitation
Chandigarh, January 23
Cutting across the party lines at the General House meeting, councillors of the Chandigarh Municipal Corporation (MC) alleged that the sanitation system in the city has totally collapsed. A majority of the councillors complained that sweepers, who were deployed by contractors in their respective areas, turned up only once in fortnight, as there is no official monitoring by the corporation staff.


Excise Dept challans MG Supermarket
Chandigarh, January 23
The UT excise and taxation department issued a challan to MG Supermarket at Sector 9 for violating the Punjab Liquor Licences Rules (applicable in the UT) here today.
Officials of the UT excise and taxation department and health department inspect eatables during a raid at Nik Bakers, Sector 9, Chandigarh, on Monday. Tribune photo: Manoj Mahajan
Panjab university
Trade unions' meeting turns violent
Chandigarh, January 23
A meeting of the local unit of the All-India Central Council of Trade Unions (AICCTU) convened on the campus of Panjab University turned awry when the mess contractors allegedly attacked the workers and a violent scuffle ensued. The police arrested a total of eight persons under the preventive measures under Section 107/151, CrPC.


Beauty train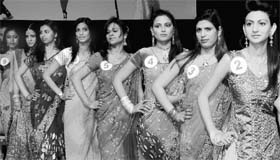 Students of the GCS Group participate in a fashion show at Cultural Fusion organised by the PTU distance education programme in Chandigarh on Monday. Tribune photo: Manoj Mahajan
Violation of Norms
Basement, first floor of SCO sealed
Chandigarh, January 23
Taking action against SCOs misusing their premises, the UT Estate Office today sealed basement and first floor of SCO no. 12-13 in Sector 9 here today. In the basement of the site, a slimming centre (Personal Point) and on the first floor, a furniture shop (Comffits) was being run in violation of the rules.
Maneesh likely to be new SP (Traffic)
Chandigarh, January 23
Panchkula Deputy Commissioner of Police (DCP) Maneesh Chaudhary is likely to be the new SP (Traffic) of the Chandigarh police. Recently, the cabinet committee of appointments (CCA) had asked the UT Administration for the willingness of Maneesh Chaudhary for the appointment on the post of SP (Traffic).


Adhere to road safety rules, says IGP
Chandigarh, January 23
Emphasising the theme of "Accidents bring tears, safety brings cheers", the UT traffic police today concluded the 23rd Road Safety Week amidst a colourful programme by schoolchildren at the Tagore Theatre in Sector 18.
Police officials at the concluding function of Road Safety Week at the Tagore Theatre in Chandigarh on Monday. Tribune photo: Manoj Mahajan

No triangular contest in Mohali: Bir Devinder
Mohali, January 23
The PPP candidate from Mohali Assembly segment, Bir Devinder, today complained to the Chief Electoral Officer, Punjab, regarding the distribution of liquor by a rival candidate to woo voters.

Bir Devinder at a press briefing in Mohali on Monday. Tribune photo




'Dolly' boost for BSP's Manav
Mohali, January 23
From addressing nukkad meetings in villages to canvassing in an autorickshaw, Manav Mehra, a former Ranji player, is now in the electoral field. Playing his political inning from the Mohali assembly segment, the BSP candidate dreams of providing amenities in slums and villages on a par with those in urban areas.
Dolly Bindra (Actress) during an election campaign of Manv Mehra, BSP candidate, in Mohali on Monday. A Tribune photograph


Satpal Jain canvasses for SAD candidate
Zirakpur, January 23
Alleging that the Congress and its rebels were working together against SAD candidate NK Sharma, the BJP Legal Cell All-India in charge Satpal Jain said it seemed that the Congress and its rebels were fearing defeat in the coming Assembly election for this they were trying cheap kind of tactics.
Results of panchayat poll declared
Chandigarh, January 23
The UT Election Department today declared the results of the Panchayat Samiti and Zila Parishad elections, which were held on January 21, here today. As many as four candidates for panchayat samitis seats and one for zila parishad seat had been elected unanimously.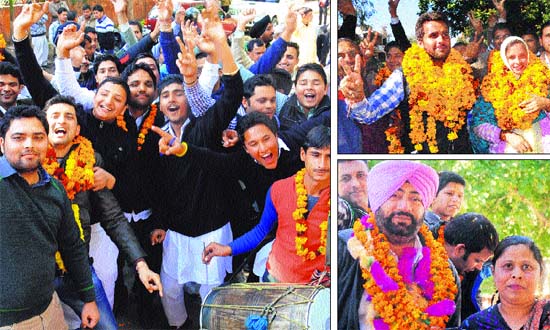 (Clockwise from above) Villagers celebrate victory of their candidate; Manoj and Krishna in a jubilant mood and Major Singh from Dhanas village celebrates his victory in Chandigarh on Monday. Tribune Photos
Sunshine, at last
Chandigarh, January 23
The bright sunshine brought some relief to the residents of the tricity region from cold wave conditions even as the mercury rose to 20.6 degrees Celsius today against 13.8 degrees Celsius recorded on Sunday.


High-tension lines cause of concern
Panchkula, January 23
The low height of the high-tension lines passing over the newly constructed Pinjore-Parwanoo bypass have become the cause of concern for officials of the Haryana Vidyurt Prasaran Nigam (HVPNL).


High-tension lines passing over the newly built Pinjore-Parwanoo bypass. A Tribune photograph
Bhukkal to preside over R-Day celebrations
Panchkula, January 23
Haryana education minister Geeta Bhukkal will unfurl the National Flag at the parade ground in Sector 5 on January 26. The chief guest will also honour those who excelled in the fields of education and sports.
Car catches fire
Zirakpur, January 23
It was a narrow escape for a resident of Zirakpur when his car caught fire here today. According to the owner of the car, Darshan Singh, a resident of Green City, he was going towards his residence in Lohgarh when his car suddenly caught fire on the Zirakpur-Patiala highway.
Submit grades, not indicators: CBSE
Chandigarh, January 23
Following failure of region schools to grade students of class X properly on 80 different descriptive co-scholastic indicators, the Central Board of Secondary Education (CBSE) has asked them to only submit grades and not the specific indicators for which the grades were granted.
Only 700 apply for second semester
Chandigarh, January 23
Blame it on sheer ignorance about the semester system, only 700 out of a total of 7,000 private candidates who appeared for Panjab University first semester examination have applied for the second semester.
VC pays surprise visit to administrative block
Chandigarh, January 23
Panjab University Vice-Chancellor RC Sobti took the administration block by surprise today when he reached there at around 4.30 pm to nab those leaving early on the pretext of power cut till 5 pm. While officials refused to confirm the number of defaulters, a source revealed that 20 employees had landed in trouble.


| | |
| --- | --- |
| Awareness rally | Future leaders |
| Students of DAV Senior Secondary School, Sector 8, take out a cycle rally on 'save oil' in Chandigarh on Monday. Tribune photo: S Chandan | Tiny tots of Government Model High School, Sector 34, perform a dance to mark the birth anniversary of Subhas Chandra Bose in Chandigarh on Monday. Tribune photo: Manoj Mahajan |