Memogate: Fearing arrest, Ijaz wants statement recorded in London
Afzal Khan in Islamabad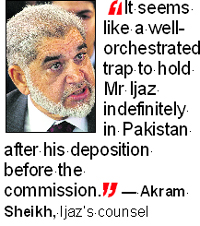 January 23
American businessman and central figure in the Memogate scandal, Mansoor Ijaz, has declined to come to Pakistan, citing inadequate security being promised by Pakistan government, his counsel Akram Sheikh told reporters on Monday afternoon.
Ijaz, however, offered to record statement in London, Zurich or any other place outside Pakistan before the Judicial Commission probing the scam, which had summoned Ijaz to record statement on Tuesday in Islamabad. He claims to have conveyed a memo dictated by former Pakistan ambassador Hussain Haqqani seeking US assistance to rein in Pakistan army.
Sheikh said his client wants the army to provide him security because he does not trust interior minister Rehman Malik who has deputed a police officer to head the security team. He said Malik and several other officials of the ruling PPP have threatened to sue Ijaz on sedition and other charges and prevent him from leaving Pakistan.
On Interior Minister Rehman Malik's assurances of arranging the army for Ijaz's security, Sheikh said, "I don't trust Rehman Malik. I trust Husain Haqqani more than I trust Rehman Malik… Did Benazir Bhutto not die in this country even after getting security assurances?"
Haqqani's counsel, meanwhile, has moved the commission to rescind Ijaz's right to make any statement if he fails to appear on January 24.
Malik, reacting to Ijaz's decision, said, "It is the drop scene of a fraudulent claim that had scandalised Pakistan."
Mansoor Ijaz's counsel Akram Sheikh said his client is being trapped and may be arrested upon his arrival in Pakistan.
Sheikh told reporters that Ijaz was reluctant to visit the country, fearing he would be detained indefinitely. He said Ijaz also believes that the police deputed by Malik would destroy the evidence he is bringing to Pakistan.
"It seems like a well-orchestrated trap to hold Mr Ijaz indefinitely in Pakistan after his deposition before the commission," Sheikh said.
Sheikh said he had also written to the army chief seeking help in provision of security, but has yet not received any reply.