COLUMNS



THIS ABOVE ALL

TELEPROMPT

GOOD MOTORING

LIFE'S LESSONS

LEXICON

NETWATCH

SPORTS & WELLNESS


FITNESS MANTRA

FOR CHILDREN



CROSSWORD

RHYME TIME
Earlier Feature


TELEVISTA


AUDIO SCAN
Test-ing tragedy
The recent debacle faced by Team India should be a learning experience, says Vivek Atray
The devastating 0-4 loss in the Test series Down Under has demoralised Team India's fans, and has set the cat among the pigeons. This disaster, coupled with a similar catastrophe in England last summer, has left Indian cricket in the throes of an unprecedented crisis. There are calls from critics for a total revamp of Indian cricket and to sack the selectors, the senior players, the captain and the coach.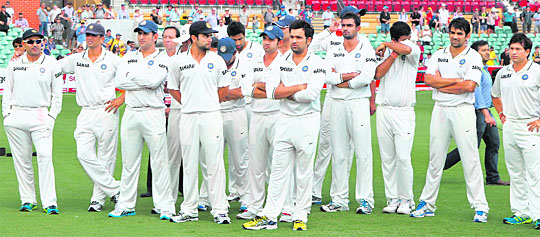 Team India has been through a roller-coaster ride before and since the World Cup so much so that it did not prepare at all for the England and Australia tours. Photo: AFP

And the ghazal king lives on…
A few of maestro Jagjit Singh's friends and associates walk down memory lane before his birth anniversary which falls on February 8. S. D. Sharma reports
God, man and nature seemed to have forged a happy alliance to create and establish the musical genius remembered as Jagjit Singh, the legendary ghazal king who enraptured the world with his incredible contribution to film and ghazal, devotional, Punjabi folk and popular music. Very few blessed souls become a legend in their life span. The music maestro was and will continue to be cherished by the music aficionados in the centuries to come, even after he passed away on October 10 last year.
In twilight years, gift of love to teachers
Anurag Dey
Providing medical help, financial support and companionship to elderly teachers to bring joy to their lonely lives, the alumni of a leading Kolkata school are paying unique gurudakshina - traditional offering by students to their gurus. The Association of South Point Ex-Students (ASPEXS), an alumni association of South Point school , has constituted a 'care wing' which endeavours to reconnect with retired teachers to provide them emotional support in their twilight years.
Leander keeps pace with time
Finally some good news trickled from Down Under. As the curtains fall on the first Grand Slam of the year, India had much to cheer about, reports Amit Khanna
On the penultimate day, the old warhorse Leander Paes did the country proud, yet again, with his magnificent showing and lifted the Men's Doubles championship, beating number one seeds — the Bryan brothers from the US (7-6, 6-2). The 38-year-old partnered with Radek Stepanek from Czechoslovakia. The unseeded pair outclassed the number one, two and three seeds on their way to the title. This was the pair's fourth outing together.