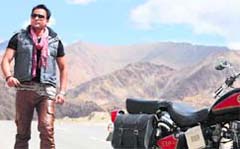 Bigger & better
It's happening. And we can see it right here-in the crisp scripts, on the fresh faces, in the new notes of music, on the different locations…Punjabi movie industry is moving, or rather charging ahead. After a few successful stints like Mel Kara De Rabba, Jiney Mera Dil Luteya last year, the industry is geared to provide more and better entertainment in the year 2012.



Vanessa's mad obsession
High School Musical star Vanessa Hudgens says she has a "mad obsession" with drawing on herself. The 23-year-old, who was recently pictured with a tattoo on her foot reading, All you need is love, said the inking was actually fake and a result of her love of drawing on her own body. "It's fake. I have this mad obsession with drawing on myself, like, I cannot help it! I draw all over my hands, all over my arms, obviously my foot. It's just fun.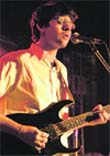 Rock on…
This gang of four is living a rocking life literally…Harmonic Friction, Chandigarh-based Alternative Rock band is going places. Just back after participating in Channel [v] Launchpad in Goa, this band is basking in the adulation and glory it received. "We ended up third in this prestigious competition, quite an achievement for our four-year-old band," says Sharang Sharma, vocalist, rhythm guitarist and the band manager. The band played their single Why I'm Here and a reggae version of Iron Maiden's legendary song, Hallowed Be Thy Name at the contest.
Beyonce offered $500 million


Singer Beyonce Knowles is being offered a $500 million five-year deal to join the television music competition The X Factor as a judge. According to a publication, music mogul Simon Cowell is keen to make his show as interesting as possible, so he is offering the whopping amount to the singer, who recently gave birth to her first child with husband Jay-Z.
TREND SETTER
Simply the best
Being fashionable and in style was somehow always the prerogative of women while men dressed up in a subtle manner. Now the tables have turned and our young boys too are looking towards latest styles and designer wear, hence giving due importance to their 'look'! A dashing young MBA student Harmanjit Singh Grewal likes to give attention to detail.
Valley of spices


There is something about food that drives people miles in search of one particular flavour! Wazwan, the delicacy from Kashmir, is one such dish. A formal meal or what can be termed as a ritual wazwan entails a ceremony that requires hours of cooking and planning.
High Spirits
Dragon heart
It's not just about number
Binge drinking should not just be defined based on the total number of drinks but the circumstances of consumption (rate of consumption, with or without food, etc.) should also constitute part of the definition, say researchers.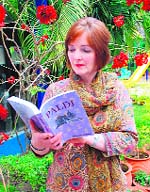 When east meets west
Is there any similarity between Ella and Prabhjot? How can there be? Ella is a citizen of Canada and Prabhjot lives in the other corner of the world—Punjab. Another difference is that Ella gets fascinated by India and its culture, while Prabhjot loves Western music and longs to go to Canada. Yet the lives of both protagonists get entwined at two points, first when Prabhjot flies to Canada and next when Ella comes to India. The only factor that connects them is their native village in their respective countries, Paldi the village, which also forms the premise of the novel Paldi by Kathyrn Myra Spencer.
Born to Act


Daksh Ajit Singh, who belongs to Ludhiana, has had a long period of struggle in life and but then who can complain if the end result is worth the hardship? "I never wanted to become an actor. I was a very shy and introvert," says Daksh. But then, Daksh gained enough experience in life that equipped him to face reality."Back in Ludhiana, I worked as a scooter mechanic, a stenographer, an embroidery craftsman, a salesman with a cassette recording shop and a graphic designer as well." He did his part-time BA from the Government College of Ludhiana.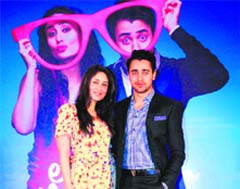 Imran behind the camera
Imran Khan besides being a good actor is also a fine photographer. He clicked some pictures of Kareena Kapoor during the shoot of Ek Main Aur Ek Tu that were shown in Mumbai recently. "Some of the photos were taken on an iPhone while some of them were taken in SLR cameras. Our on-set photographer Amin Ahuja was helping me out on all of this because I am not a professional photographer. So I can't take all the credit. It was because of his help," Imran said.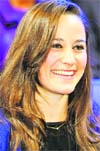 Pippa makes her move!
Following in sister Kate's footsteps, Pippa Middleton is reportedly in a serious relationship with a mega-rich Earl. The man in question is her old flame George Percy, heir to the Duke of Northumberland. It is one of Britain's richest and grandest dukedoms, with a vast estate that includes Alnwick Castle, movie setting for Harry Potter's school-Hogwarts. Percy, 27, called Prince of the North by friends, will one day inherit a lot, including 315 million pounds.
Pun'jab' Sandeep Joshi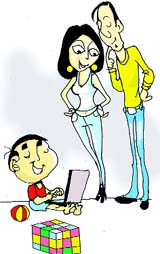 Child's play: Good News. His friend's list crossed the one thousand mark.
chatter box

From films to television
Trishala hasn't seen Bigg Boss yet: Sanjay Dutt
Imran behind the camera
Imran Khan besides being a good actor is also a fine photographer. He clicked some pictures of Kareena Kapoor during the shoot of Ek Main Aur Ek Tu that were shown in Mumbai recently.