15 stray cattle run over by train
Cattle were hit by a goods train; second such incident in Mansa in the last one month
Gurdeep Singh Mann
Tribune News Service
Mansa, February 5
As many as 15 stray cattle were run over by a goods train near Narinderpura village in the wee hours today. A herd of cattle gathered around the railway track where a bull got crushed under a train three days ago.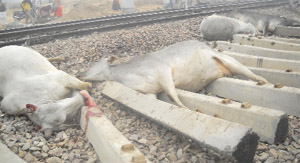 Carcasses of stary cattle that were hit by a goods train at Narinderpura village of Mansa district on Sunday. A Tribune photograph
Villagers said that the bull was hit by a speeding train and the villagers had buried the body of the animal adjacent to the railway track. Joginder, a resident of Narinderpura, said the cattle gathered around the place of the accident and were making noise in the wee hours.
A goods train passing through the railway line at around 4.30 am crushed the cattle.
The body parts of the cattle were littered all over the track up to many kilometres.
The villagers, while ruling out any foul play, said that a similar incident took place last month in Mansa where around 20 stray cattle died.
The farmers said the stray cattle also damaged their agricultural fields and demanded that the cattle should be shifted from the agricultural fields to gaushala so that such incidents do not recur again.
Mansa residents said that somebody offered green fodder to the stray cattle in Mansa last month and the cattle were run over by the speeding train.
The villagers said that they are planning to hold an akhand path (religious prayer) after the death of the cattle.
Surinder, a farmer of a village, said all the animals that were killed today were stray cattle.
The railway police authorities were informed about the incident.