Old age home inaugurated
Anirudh Gupta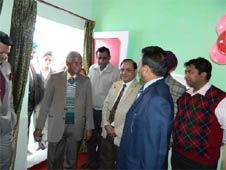 Dignitaries during the opening ceremony of 'Sneh Kendra', an old age home at Cantonment General Hospital in Ferozepur on Tuesday. Tribune photo
Ferozepur, February 7
For all those hundreds of old and needy who do not have a roof over their heads or a place to call their own, the Cantonment Board has established, 'Sneh Kendra', an old age home on the premises of the Cantonment General Hospital, which was inaugurated here today in the presence of the Board officials, representatives from various NGOs and eminent people from various walks of life.
Ashwani Kumar, Principal Director, Defence Estates (PDDE), Western Command, Ministry of Defence, presided over the inaugural function. The PDDE also inaugurated a special centre for the mentally retarded and differently abled children, christened as 'Muskaan', which was also opened here today.
JV Singh, CEO of the Board, said both these centres will offer much needed facilities to the elderly and the special children which was needed in the area for a long time. He said that the facility is being provided free of cost.
The PDDE said that the defence estates department has envisaged opening such centres in all the cantonments as per the requirement of the people belonging to that area.
He said that facilities like TV, Internet and computers besides a library and physiotherapy centre shall be made available to the old-timers.
Lauding the efforts of the Board, the PDDE said a committee of the local philanthropists shall be constituted to look after and run these centres so that these projects can become sustainable and free from any kind of red-tape.
Later, the PDDE also visited the vocational training centre (VTC), cantonment schools and Gandhi Garden, where he interacted with the students and the staff. He also met various delegations which included the Pensioners Association, Beopar Mandal, and the Cantonment Residents Association, among others.