On road to FITNESS

There are many things that can happen with wishful thinking, but there is definitely one thing that cannot be achieved through it — physical fitness. Well, of all the things you wish a robot could have made possible for you; health is something that you have to burn and earn. Now that you know wishful thinking doesn't pay, its time to hit the gymnasium! Given the state-of-the-art equipment, high-energy music, professional trainers, new techniques of keeping fit that the gymnasiums in Chandigarh and Ludhiana have to offer, you wouldn't mind driving a few kilometers to get in shape!
work out Leena Mogre's Specialised Gym Fitness in Chandigarh

COUPLE CONNECTION
Valentine's Day is near and so is the movie Valentine's Night, set for a February 10 release. And the lead pair, Payal Rohatgi and Sangram Singh, was in Chandigarh to promote the movie on Tuesday. Sangram Singh, who comes from a wrestling background and has won many medals, done reality shows like 100%: De Dhana Dan, Guinness World Record, Big Toss and recently Survivor India, has a moving story to tell, "I belong to Rohtak and was born pre-mature. I had arthritis, which resulted in paralysis and was on the wheelchair for eight years. It's during this time that I realised that I could bounce back and started working hard on my fitness."
The right notes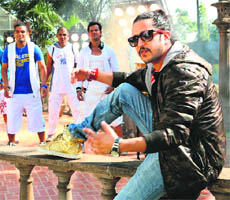 If you are a music buff, wanting to release your own private album and for some reason you think it isn't a possibility…you need to hear what singer Baba Honey from Mumbai, on the release of his debut album Balle Punjabis, has to say. "I am a trained singer; I used to look at Mika and notice how he sang. So, following him I have become a singer. Thereafter, I started writing my own compositions. In my debut album, my sister, Rishika Kaushal, a famous model, has acted with me. The album is released under K Company, which is my mother's company," he says, taking pride in every word!
Punjabi BEAT: Baba Honey

In letters and spirit
The Chandigarh Sahitya Akademi is organising the Festival of Letters, an annual event spread over three days, starting from February 10.

Celeb point
Nightmares in dreamland
Ask anyone if at some stage in life he or she would like to be part of the film industry. Most would like to go for acting for obvious reasons but some would opt for the technical side too! For creative satisfaction, fame, money, anything!
Net profit or loss?
Combing dating websites for that perfect love match can be very frustrating, and a group of U.S. psychology professors released a report on Monday explaining why there is no substitute for meeting face-to-face.
The 'in' side


Window with a view
Bay windows are usually a unit of three or more windows projecting out from an outer wall of a house. Bay windows add more light, depth and dimension to a room. They create an interesting focal point and allow a lot of natural light and a beautiful outside view. Here are a few tips to decorate your window space—
Doc Talk


Mane attraction
Hair transplantation has now become a well-known and permanent treatment for baldness and hair loss. Hair transplantation relocates hair follicles, encouraging natural hair growth in balding areas. Although this procedure is most commonly performed on men, hair transplantation is growing more popular among women too.
Home alone
Harry Potter star Daniel Radcliffe says he will spend Valentine's Day without his girlfriend because he is so busy promoting new movie The Woman In Black.
star track
Kareena quits Once Upon a Time in Mumbaai 2
Kareena Kapoor has walked out of the sequel to Once Upon a Time In Mumbaai and it is not because of Shahid Kapoor's inclusion in the movie.

n Rejuvenating bonds
n Ashiqui's fresh faces
n Don't need six pack abs to be a good actor: Akshaye Khanna
n Hot wheels!
n Knot waiting
n African Romeo
n No hard feelings
n Frozen frame
n Not in a hurry
n Movie on Katy Perry
n Brangelina's son taking pilot lessons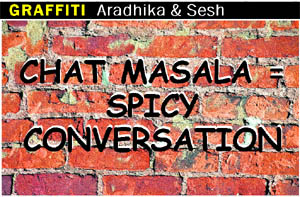 chatter box
Wrap up time
Buzz is that SAB TV will launch a new show DJ's A Creative Unit's I Love my India, starring Imran Khan from February 20 at 8 pm, which indicates that Chintu Chinky Aur Ek Badi Si Love Story might be sent packing. The show starring Rajesh Kumar and Divyanka Tripathi hasn't delivered up to expectations even after the leap. Let's see if the channel shifts the show to another time slot or axes it.

n Family discord
n Will he, won't he?
n In the right company
n Leading from the front...
n Back in the limelight