There are many things that can happen with wishful thinking, but there is definitely one thing that cannot be achieved through it — physical fitness. Well, of all the things you wish a robot could have made possible for you; health is something that you have to burn and earn. Now that you know wishful thinking doesn't pay, its time to hit the gymnasium! Given the state-of-the-art equipment, high-energy music, professional trainers, new techniques of keeping fit that the gymnasiums in Chandigarh and Ludhiana have to offer, you wouldn't mind driving a few kilometers to get in shape! We get you a low-down on the gyms, the services and the USPs they sport.
Pack it well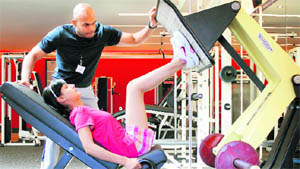 The trainer ensures personal attention
Leena Mogre's Specialized Gym Fitness, Chandigarh
The oldest gymnasium in Chandigarh began as Planet Fitness and is now a place that has made the word 'fitness' exciting; something to look forward to. Bobby Garg, director, took the franchise from Leena Mogre and turneda it into Leena Mogre's Specialized Gym Fitness last year.
Tread along: The place offers a complete package of health and fitness services starting from power yoga, spinning, dance classes, aerobics et al. A work-out routine based on fitness regimen designed by Leena Mogre is the most talked about aspect of the gym.
Personal touch: Should anyone be interested in personal training, this gym has more than 20 specialised trainers. Depending on the category of the trainer, personal training costs Rs 4,000-10,000 per month.
"We also offer diet counselling by dietician Savi. The gym provides one complimentary diet session for every member, thereafter we have monthly charges," says Bobby Garg, director.
Membership status: Rs 28,000 for females (this does not include studio classes), Rs 30,000 for males and Rs 50,000 for a couple. These days the gym provides a special offer of Rs 8,000 off on annual membership.
USP: Studio classes that include various kinds of yoga and aerobics, dance, spinning along with the regular cardio exercises.
Close to nature
Oxy Gym, Chandigarh
Getting up early and hitting the gym doesn't sound interesting to everyone's ear, but if you get to see greenery around and breathe in fresh oxygen; burning fats can sound like an enticing prospect. Started three years back, Oxy Gym boasts of international equipment and the best trainers.
Machine work: Automatic exercise bike, suspension trainer, door mount, squat rack, treadmill, cross-trainer; the place believes in providing the best of services.
USP: A swimming pool and spa on the gym premises enhances the relaxation factor. Adds Munish Bajaj, managing director, "Oxy Gym is located inside a five-star property, which makes it an ideal location for exercising."
Membership fee: Rs 15,000-32,000
Timing: 6-10 pm
Fit 'n' Fine
Oceanic Gym
Once you are a member, you can exercise in all the branches in Chandigarh, Panchkula, Mohali and Ludhiana. So, they are giving you no reason to miss out on your exercise schedule.
Trained hands: Jasbir Kaur, proprietor, Oceanic, believes in giving personal attention to the clients. "The gym equipment is more or less the same everywhere, what is most important is personal attention from the trainers who ensure that the client is doing the right kind of exercise. Three to four trainers at any given point of time are present at any centre," she says.
USP: We have almost 10 treadmills at each centre, which is why there is no waiting. The trainers ensure that clients are watched every minute.
Membership fee: Rs 15,000
Professionally yours
Prime Bodies, Ludhiana
Opening a gym is not difficult; ensuring that it is run professionally definitely is. Nishchay Sachdeva, owner and main coach at the gym, has worked with Bollywood celebrities for a long time. He has also worked in a Hindi movie with Sanjay Dutt! He believes in being professionally trained before passing on the knowledge to anyone else. "We have state-of-the-art equipment from the US and ensure that every single client is professionally trained."
Membership fee: Rs 3,000 quarterly.
Going international
Libra Health Club, Ludhiana
Personalised training and diet charts are what the gym focuses on other than providing latest equipment for work-out. Other than this, the place has international trainers who ensure that clients get an update on international health maintaining techniques.
jasmine@tribunemail.com