Cash-strapped pvt carriers can import jet fuel directly
Group of Ministers also okays Air India debt plan
New Delhi, February 7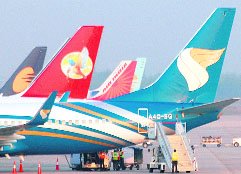 An empowered Group of Ministers (GoM) today fulfilled a long-pending demand of private airlines by giving the go-ahead for the direct import of jet fuel - a move that will now help cash-strapped carriers save on high sales tax charged by some states and significantly lower staggering financial losses.
Pranab to present Budget on March 16
New Delhi, February 7


The Union Budget delayed because of elections in five states will now be presented on March 16, four days after Parliament will begin its budget session. The budget session, which normally commences in the third week of February, will start on March 12 with President Pratibha Patil addressing the joint sitting of members of both the Houses of Parliament.
Delhi HC stays DSGMC polls
New Delhi, February 7
The much-awaited elections to the Delhi Sikh Gurdwara Management Committee have been stayed. The elections to the cash-rich and politically influential body of Sikhs were slated for March 11.