M A I N N E W S
Tibet part of China, reiterates India
Both countries vow to put contentious issues on the backburner, step up ties
Ashok Tuteja writes from Beijing
India on Wednesday reassured Beijing that it considered Tibet Autonomous Region (TAR) as part of China and clarified that New Delhi does not allow 'any force' to use the Indian soil to carry out anti-China activities.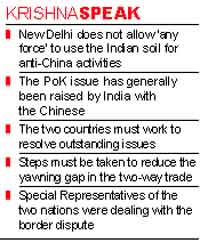 Against the backdrop of certain unsavoury developments in bilateral ties, the two countries also pledged to put contentious issues on the backburner and give momentum to people-to-people contacts and trade and economic relations in 2012.
Shaken by a series of self-immolations committed by Tibetan monks and nuns to protest Beijing's policies in the recent months, top Chinese leaders are understood to have raised the Tibetan issue during meetings with visiting External Affairs Minister S M Krishna.
Addressing a press conference, Krishna confirmed that the Tibetan issue figured during the talks. He said he reiterated India's position on TAR and told the Chinese leaders that New Delhi was dealing with the internal affairs of China accordingly. ''Hence, we have to be very cautious (on the Tibetan issue) and any help we can render, we are too willing to provide it. But I don't think that situation will arise.''
A press release issued by the Chinese Government said Beijing appreciated the firm support of New Delhi over the Tibetan issue.
China believes that exiled Tibetan spiritual leader the Dalai Lama has been fuelling revival of the Tibetan movement from his abode in Dharamshala and has often in the past drawn India's attention towards its concern.
Asked if increasing Chinese activities in Pakistan occupied Kashmir (PoK) figured during his talks, the minister said the issue has generally been raised by India with the Chinese. India, he said, has already conveyed to Beijing in unequivocal terms that Pakistan was illegally occupying certain territories of Jammu and Kashmir.
Krishna, who was here primarily to formally inaugurate the new building of the Indian Embassy, held meetings, among others, with Chinese Foreign Minister Yang Jiechi, State Councillor Dai Bingguo (who is China's Special Representative for boundary talks with India) and Zhou Yongkang, who is a powerful member of the Standing Committee of the Communist Party of China and deals with the security related issues.
The meeting between Krishna and his Chinese counterpart particularly was cordial. ''Warm welcome to Beijing, I am glad to see you,'' Yang said as he received the Indian minister with a warm handshake. Krishna reciprocated the gesture, saying ''even though the temperature outside is cold, the kind of warmth and goodwill I have received is heart warming.''
Yang announced that Chinese President Hu Jintao would visit India in March end for the BRICS (Brazil, Russia, India, China and South Africa) Summit to be hosted by New Delhi. The Chinese minister might himself visit New Delhi prior to his President's visit.
Underlining the importance of trade relations between the two countries, Yang said the two-way trade has already reached $ 74 billion and the two countries were poised to achieve the target of $ 100 billion by 2015. Krishna said steps must be taken to reduce the yawning gap in two-way trade.
He also told Yang that while the two countries should work to resolve outstanding issues, they should not be allowed to adversely affect ties in other areas.
He said representatives under the border mechanism set up by the two countries would meet at an early date. Asked if China raised the status of Arunachal Pradesh during today's talks, he skirted the issue, saying Special Representatives of the two countries were dealing with the border dispute. ''We should better leave the boundary issue to the Special Representatives who have been mandated to come to an agreement.'' The two countries decided to celebrate 2012 as the 'Year of India-China Friendship and Cooperation.''