New device to curb sex-determination tests shortly


Chandigarh, February 9
To keep tabs on illegal sex-determination tests, a Haryana district will soon have a new Active Tracer Technology device fitted in all ultrasound machines of 26 registered ultrasound centres.
OPD block of PGIMS starts functioning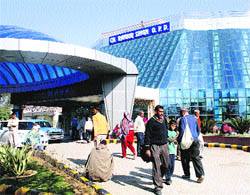 Rohtak, February 9
The newly built block of the OPD of the PGIMS here, the largest government-run medical college and hospital in the state, has started functioning.


The new OPD at the PGIMS, Rohtak. Photo: Manoj Dhaka

Aviation club may resume pilot training
Hisar, February 9
After a gap of more than a year, pilot training is likely to commence at the Hisar Aviation Club within the next few weeks.