Govt shows 13 'corrupt' officials the door
Jammu, February 14
To check corruption, the state government today issued orders for premature retirement of 13 government employees from service on the basis of recommendations given by a high-level committee chaired by Chief Secretary Madhav Lal.
Cabinet meeting today
Jammu, February 14
The state Cabinet will meet tomorrow to discuss various issues pertaining to the functioning of the government. Sources said the Cabinet would discuss the strategy of the coalition for the upcoming budget session of the Assembly
Women separatist group sermonises V-Day revellers
Srinagar, February 14

Activists of the hardline Dukhtaran-e-Millat (Daughters of the faith) raided several city-based restaurants today as part of their campaign against the Valentine's Day celebrations. Even though the separatists group in the past has been accused of resorting to violent means during their "anti-obscenity" campaigns, on this Valentine's Day, the Dukhtaran-e-Millat (DeM) activists chose to give religious sermons to couples who were seen celebrating the day at restaurants.
Dukhtaran-e-Millat activists out to 'counsel' young couples in Srinagar on Tuesday.
Central institute to help check accidents: Omar
Jammu, February 14


Expressing concern over frequent road accidents in hilly areas, especially in erstwhile Doda district, Chief Minister Omar Abdullah today said the Central Road Research Institute (CRRI) was being roped in to conduct a detailed survey and formulate a report suggesting remedial measures to check accidents.
Love blossoms under shadow of fear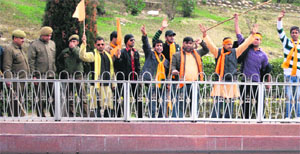 Jammu, February 14
Youngsters celebrated Valentine's Day, buying gifts for their loved ones, albeit under the shadow of fear here today. Activists of the Shri Ram Sena made things tough for couples, as they kept a vigil at parks to prevent youngsters from celebrating the day.
Activists of the Bajrang Dal protest against the Valentine's Day celebrations at Bage Bahu Park in Jammu on Tuesday. Tribune photo: Inderjeet Verma

Ruling coalition busy amassing wealth, says Mehbooba
Srinagar, February 14
The president of the opposition PDP, Mehbooba Mufti, today accused members of the ruling coalition of lining their own pockets at the cost of the public exchequer by "creating personal assets" from money meant for roads, electricity, water and employment generation.
Assembly staff grapple to decipher MLAs' queries
Jammu, February 14
"I have no water for drinking and 'kheti'. What action? Will government please to provide information?" (sic) This is not a child's query but that of a legislator of the Jammu and Kashmir State Assembly.
Man acquitted in forgery case
Jammu, February 14
The Second Additional Sessions Judge, Jammu, Subash C Gupta, has acquitted Vipan Gandotra of charges under Sections 420 and 468, Ranbir Panel Code, after the prosecution failed to prove the commission of offences.
MC Impasse
Garbage piles up as daily wagers' strike continues in Katra
Katra, February 14
The ongoing strike by daily wagers of the Municipal Committee here has turned the holy town and base camp of Shri Mata Vaishno Devi Shrine into a garbage dump and could trigger the outbreak of an epidemic.
Srinagar to get foreign post office
Srinagar, February 14
A sub-foreign post office will start functioning in the summer capital of the state within the next three months.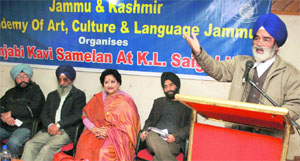 Punjabi mushaira held
Jammu, February 14
The Jammu and Kashmir Academy of Art, Culture and Languages organised a Punjabi mushaira at the KL Saigal Hall here on Tuesday. Noted littérateur Baljit Singh Raina presided over the mushaira whereas Gurcharan Singh Gulshan was the chief guest on the occasion.
Punjabi poets participate in a mushaira in Jammu on Tuesday. A Tribune photograph
Folk artistes enthral audience
Jammu, February 14
Troupes from different parts of the state enthralled audience on the second day of the four-day folk festival at Abhinav Theatre here today.
Police warns about fake finance firms
Srinagar, February 14
The public in the Kashmir valley has been told to be wary of calls, SMS alerts and emails being sent from fake finance companies. This step has been taken by the police here following complaints of calls, SMS alerts and emails being sent from fake finance companies asking people to invest a meagre sum to obtain "huge financial gains".