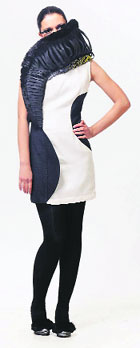 FASHION-ed to perfection
Here's lifting the curtains off Wills Lifestyle India Fashion Week 2012-Autumn Winter collection and knowing some of the debutants who have made it to the country's biggest fashion extravaganza
Harried inspections of the outfits, hurried adjustments of hemlines, checking and re-checking the accessories to go with the ensembles...fear of last-minute glitches has started bothering fashion designers. Thank god, in between so much of mayhem, with less than a few hours to go for the first season of the first fashion week of the year, the participating designers take a phone call. Each of them invariably promised 'only' five minutes. "You know how jittery one gets before the fashion week; there isn't a second to spare," comes from a designer who will be showcasing his collection for the seventh time at the Wills Lifestyle India Fashion Week (WLIFW), which begins in New Delhi on February15. We wonder how difficult it is for the debutants! Here is getting to know some of the first-timers at the fashion week and taking a peek into their collection. And also how they plan to make it a long lasting affair at the WLIFW! A creation by Shantanu Singh

Slicing through history
As Mohali-based playwright and director Dr Atamjit is busy giving finishing touches to his historical play Panchnad Da Paani , he talks about the relevance of history in contemporary times
Punjabi plays and Sikh history…never the twain shall break; rather an umbilical chord seems to connect the two. Not surprising then, a whole lot of Punjabi plays steeped in Sikh history have had a successful run. But when eminent playwright and theatre-person Dr Atamjit, who likes to do things differently, decides to direct a play he not only chooses a chapter of history that preceded the birth of Sikhism by many centuries, but also a character that is not known to many.
Posh goes the army way
Victoria Beckham, who has proved that she can win over the toughest of fashion critics, delivered a crowd-pleasing military-inspired collection at the New York Fashion Week. As a well-established member of the industry and a British Fashion Award-winner no less, the 37-year-old former 'Spice Girls' member's latest offering felt like her most confident to date.
Solid structure
The designer from Kolkata will be presenting the Troy Story, a collection inspired from the film, Troy. Emphasis is laid on structuring of the clothes. The long, flowing garments have been given a prominent A-line shape with cording that renders stiffness and structure to the creation. "The collection comprises corded jackets, leggings and skirts.
Designs on women!
It seems like designs for the modern Indian women will dominate the WLIFW this time. Know from the established names what they have in store for the woman who works hard and parties harder!
Astro turf
ARIES: Your card manages to maintain clarity and direction in complicated work situations. Love ties grow stronger and hotter! Children may be annoyed if they feel restricted. Tarot message: Be articulate to prevent people from drawing their own conclusions.
Chatter box
Off air?
Now that Amrit Manthan starring Dimple Jhangiani will air on Life Ok, speculation is on about the timing. Apparently buzz is that Optimystix's Zindagi Kahe - Smile Please, which hasn't got good TRPs since the launch might be axed. The channel is still working on the time slot and not decided yet.



Role call: Mona Singh
Mona Singh returns to soaps
Vivacious Mona Singh returned to fiction shows on television after her hit TV show Jassi Jaisi Koi Nahin. She was averse to doing soaps as they didn't appeal to her. So what was the clincher in this deal, we ask her. Why did you accept this show after refusing others? When I did Jassi Jaisi Koi Nahi I realised working in daily soaps was tough with no personal life. I didn't want that. Moreover the roles seemed similar. I was happy hosting. But when I was approached for Kyaa Hua Tera Vaada, I knew I couldn't let it go. The role, the producer and the execution are just fantastic.
Dress circle
Is it the girl or is it her dress? Is it the colour or is it the fit? Sensuality for lovely young ladies has just one name 'Bebe'
A brand that owes its origin to the Shakespearan phrase, "to be or not to be", Bebe, invited the gorgeous, hip and sexy Sarah Jane Dias to indulge herself on Valentine's Day. Sarah, who had just returned from a shoot in Maldives, was tanned, bronzed and exuded sensuality.
Kiss and tell...
I am scared of kissing on screen: Bipasha
Bipasha Basu is known for her bold roles in Jism, Raaz and Race. But when it comes to locking lips on big screen, the actress isn't comfortable. "I am scared of kissing on screen. Yes, on-screen kissing nerves me to death and I had a really very uncomfortable experience in Jodi Breakers with R. Madhavan who is a friend," Bipasha said.

Guest appearance
Nargis Fakhri makes an appearance at the Elle Cup at the Race course in Mumbai. She looks lovely.



Racing beauty: Nargis Fakhri

Foot loose
Swati Mehrotra, a Delhi-based footwear designer, says spontaneous creativity is very important in her field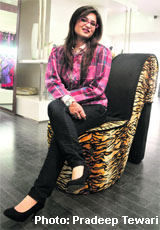 Fetish for shoes is common among women, but getting the right size, colour and comfort, all in one, is a tall order. Swati Mehrotra, a Delhi-based designer who runs a brand in the name of 'SWATIMODO', solves all the problems at one go. At the Soh-Koh store in Sector-26, Chandigarh, on Tuesday to launch her latest collection Dazzle, Swati has footwear with original swarovski crystals studded on them. "Although like every fashion student I tried to put my hands on garment-designing, at the back of my mind I was always convinced that footwear reflects ones personality. So, I decided to go in for footwear designing."
Road Rage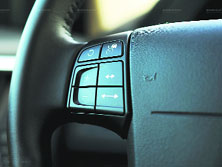 Cruise your way
How often do you think of handing over the car the entire control, especially when you are maneuvering your way through serpentine traffic? Cruise control, the new technology has made life much simpler and driving an experience. Today, almost all hi-end cars come with a cruise control that makes the sail through without any glitch. This new technology is called the active or adaptive cruise control. Cruise control helps in maintaining a given speed while you are driving. In some cars it even comes along with radar technology which helps in keeping a set distance between your own car and the car ahead.
Fire Brand
Sunny Jind is an avid collector of Zippo lighters of different shapes, sizes and themes
One out of the ten times, it is okay not to have a logical take on certain things that we do. Sunny Jind, for instance, collects Zippo lighters, different shapes, sizes, forms and when you quiz as to why he does it, a smile, glint in the eyes is what we get…followed by a short story.
Retirement plan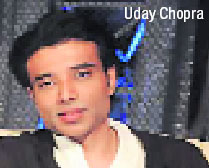 Uday Chopra is preparing for Dhoom 3 by using bikes extensively. He has already broken some bikes. The shoot of the film is delayed. He has said he will retire after this.
The healing power
It was her search for reaching paramatma that brought her close to spirituality and meditation. It was not until 1997 that Davinder Gill came in contact with the flaw of jaap. Today, she has mastered the art of meditation and her book, Self Realization gives an in-depth insight into understanding the mind and the body connect.
Celeb point
Let the magic of love touch you!
There is something very festive about the Valentine's Day. Most of the proposals in teens are made on this day and of course weddings and engagements too! The power of the moment is so strong that you get carried away by it, making promises and vows, which life and its twisted ways, does not let you keep always. But power of the moment it is! It makes you feel this is it, this is the partner for life, this is the moment of my life. And then like all things, that fades too! When either you find out later that person is not the right partner or life just makes you more practical. I am not being judgmental and cynical. I have done a lot of it too and still do--wait for those red roses, chocos and something extra beautiful said on this day but life is much more than that.
Sleep talk
7-hour sleep helps high school students do better
High school students seem to do better in studies when they have seven hours of sleep, rather than nine recommended by federal guidelines, a study reveals. "We're not talking about sleep deprivation, the data simply says that seven hours is optimal at that age," said study co-author Eric Eide from Brigham Young University (BYU). The new study, led by Eide and BYU economics professor Mark Showalter, is the first in a series where they examine sleep and its impact on our health and education.
HEART talk
You are unique
I have a sister and we are almost of the same age. People keep comparing us and tell me that she is more beautiful. My parents praise her all the time. I don't have any hard feelings against her, but I can't handle this. What should I do?
On a fruit diet
Hollywood superstar Angelina Jolie has no time to eat properly, thanks to her six kids
Hollywood superstar Angelina Jolie is reportedly surviving only on fruits because she doesn't get time to eat a meal thanks to her six children. The 36-year-old, who raises six children with partner Brad Pitt, is so busy taking care of her family that she forgets to eat, a source said.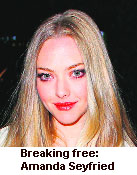 Splitsville for Amanda
Actress Amanda is happy to be single now after having many realtionships
Hollywood actress Amanda Seyfried has reportedly been dumped by her real estate broker boyfriend Justin Huchel. Huchel is said to have ended the romance only after few weeks as he didn't think it was going anywhere. "They're definitely over. He celebrated New Year's Eve in Aspen and she wasn't there! The split happened gradually over time. They still talk. They aren't what they were, but they still hang out and are on great terms," a source said.
Sallu's influence
Did Zarine Khan turn down an item song for Salman Khan?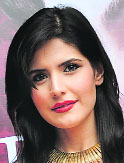 According to many media reports, Zareen Khan opted out of an item number called Main Chamiya No 1, because it also featured Vivek Oberoi who had a tiff with Salman Khan. Is that true? The reports also claim that Zarine used to be a background dancer before she made her debut in Veer opposite Salman. But Zarine has denied reports, saying, 'Many articles in newspaper mention me as a background dancer. I don't know whether to feel upset over this or be amused as before I did Veer I was in no way associated with the Hindi film industry. I wonder where background dancing came from,' she says. She did not comment on the reports about the item number. Item code: Zareen Khan
Nikhil helps spot boy
What started as a prank, turned out to be a dream come true for one lucky spot boy on the sets of Tamanchey, as he landed up with a role in the movie, thanks to actor Nikhil Dwivedi. While packing up one day, the crew was in a relaxed mood and decided to play a prank on one of the spot boys. They asked the man to audition for the role of a gangster in the film. The spot boy felt it was a golden opportunity to prove his skills, and took the prank seriously.
Ali thanks Internet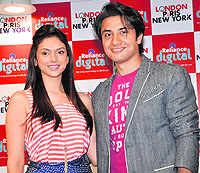 Pakistani actor Ali Zafar believes in the power of social media, and feels grateful for the medium. "Thank you Internet and social media for giving our generation a chance to exchange thoughts like never before. To give us power to reach out. Thanks to online social media for enabling truth be told like never before. For helping discard biases and prejudices and see the other side," tweeted Ali. The actor will soon be seen in romantic comedy London, Paris, New York, releasing on March 2. — IANS
Net effect: Aditi Rao Hydari and Ali Zafar
Big catch!: Pretty and talented Anushka Sharma is flying higher. She has bagged Rajkumar Hirani's next directorial venture titled Peekay. Hirani is convinced about her talent. So good for them!
Back in Bhatt camp: Bipasha Basu reveals that she got into acting because of Vikram Bhatt who directed her in her earlier films and delivered hits such as Footpath and Raaz. They are now working on Raaz 3.