Mysterious biker part of team?
New Delhi, February 14
After yesterday's blast, Delhi Police is still piecing together information on the possible escape route of the motor-cyclist who planted the bomb. Sources said the motor-cyclist could be a part of a small team that arranged logistics and even had a plan-B ready. The other members of the team could also have been close by when the man riding a red-coloured motor-cycle planted a magnet bomb on the car carrying an Israeli woman diplomat. The woman, Tal Yehoshua Koren, was injured along with three others.


Editorial: Terror gets a new twist


Nation page: India in catch-22 situation
Khurshid writes to EC, expresses regret
New Delhi, February 14
Seeking to end the row with the EC over his Muslim sub-quota remark, Law Minister Salman Khurshid has expressed regret, saying it was never his intention to transgress the law and undermine the poll code of conduct. In a letter delivered to the EC midnight last night, Khurshid said that he "bows to the wisdom of EC" and has given his commitment to ensure that such a situation does not arise again.
'Tantrik' father kills 3-yr-old son
Kul Dabhi (Sunderbani), Feb 14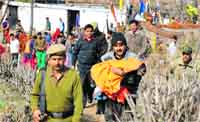 In a spine-chilling incident, a father allegedly sacrificed his three-year-old son to propitiate 'Baba Bhairav Nath' at his residence at Kul Dabhi village in Sunderbani tehsil of border district Rajouri.
The tantrik father with the body of the three-year-old boy that was exhumed from his house. Tribune photo: Anand Sharma