Every Wednesday & Saturday

Cases of domestic violence drop in Jammu


Jammu, February 14
Domestic violence in Jammu has seen a decrease in the last three years, as in 2009, 1,165 complaints were registered, in 2010, 1,070 complaints were registered and in 2011, only 1,028 complaints were registered by the police.
Hi-tech polyhouses to boost tulip production
Srinagar, February 14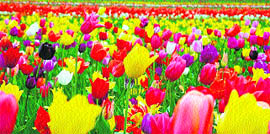 The Jammu and Kashmir Horticulture Department is using hi-tech polyhouses to help facilitate the early bloom of tulips, which in turn is boosting its production. Tulips, which are usually ready for cultivation in April, have blossomed two months earlier this year.
Empower state youth, says survey
Srinagar, February 14
The Institute for Research on India and International Studies (IRIIS), a Delhi-based NGO, which has recently conducted a survey on the impact of the media on youth of the Kashmir valley has recommended to make the youth an important stakeholder since they held the key to the political future of the state.