Confessions of shopaholics: Shop till you drop
Nikhila Pant Dhawan
Tribune News Service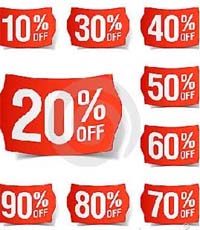 Bathinda, February 16
If you think that since the sun is shining bright this is not the time to go out and spend money on buying woollens, then you need a trip to your nearest market. Thanks to the heavy discounts being offered by almost all the stores selling apparels and footwear, this is the season that the avid shopaholics wait for. And the fag end of the discount season is when they believe in stepping out and 'investing' in clothes for the next season.
And the shopkeepers aren't complaining. Smile Khanna, owner of a branded apparel store on Mall Road says despite the increase in temperature, the crowd in his shop has also been constantly increasing, and the credit goes to the 'Upto 60% sale' that he is offering. "This is the best period for any shopkeeper. For us, it is the clearance sale as the next winter will bring along new fashion and trends. But for the shoppers, these are the best days to go and buy clothes for the next season."
Similar are the views of Ashok Muthreja, manager of a Dhobi Bazaar store that sells branded apparel, bags, footwear and sportswear. "Ever since the sale has started, customers have been thronging our store. On some days, we have had customers spending more than `15,000 at our store, buying shoes and track suits."
"Youngsters of the city are brand conscious and they wait for the discount season to buy their favourite pair of branded shoes or sportswear. It's a win-win situation for both the customers and the shopkeepers," he adds.
Cherub Juneja, residing near the Ghorewala Chowk, says, "Although I'm a housewife and usually go to the market with my husband or daughter only, I do step out with the ladies in the neighbourhood to shop and make the most of the sale. This season, I must have spent more than `25,000 on clothes for the three of us. I wanted to buy more but stopped keeping the budget in mind. I got nice pullovers for my husband for a price as low as `300!"
Anurag Aggarwal, a student of a city college, proudly confesses that all the branded clothes and footwear that he owns, has been bought during the sale season.
"I'm very brand conscious but the problem with student life is that there's never enough money to be spent on branded apparels. And this is when the bi-annual sale season comes to the rescue. This winter, I bought two pairs of shoes at almost two-thirds their original price," he says.
"I also struck quite a bargain when I bought three shorts and got two shirts free under a special Valentine's Day discount," he adds.
Ramesh Ahuja, owner of a woollen apparel store in Dhobi Bazaar, however, has something to complain about. "Every single piece of clothing at our store is on sale and still sometimes, women come and ask if the discount percentage is fixed. Sometimes, they even haggle for a further bargain and we have to politely turn them away. Even when it's sale season, they want something more for free, like they get green chillies and dhaniya with their vegetables," he says.