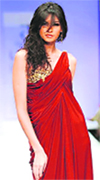 When fusion means fashion
That's how fashion has been — moving ahead, coming back, evolving, retreating…it follows a cycle. At the most, it experiments; with whatever has been invented by the forerunners of fashion. Someone like Karl Lagerfield of Chanel also draws inspiration from existing trends to come up with interesting creations — he added length to the Nehru jackets to transform them into long coats at a fashion show held in Paris in December last year. The collection was rightly titled Paris-Bombay collection. Exactly what fusion of fashion means!

A gown saree by troy costa
If you will…
Ek Aadat Si Bana Li Hai Tumne to Munir Apni, Jis Shehar Mein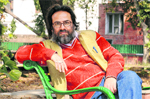 Rehna Uktaaye Hue Rehna … With this couplet, well-known theatre person Mushtaq Kak dismisses the grouses of those who bemoan the challenges en route the world of theatre. "I fail to understand why theatre practitioners rave and rant about the difficulties they face. None of us have chosen theatre under any compulsion or pressure," he says.
Play act: Mushtaq Kak
Thought in action
The next best thing after cribbing about your problems is to address them. Ashu Sharma, a theatre actor who moved to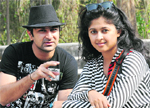 Mumbai almost a year back realised this was 'the' thing to do. Some good meaty roles in Teen Patti (with Amitabh Bachchan), No One Killed Jessica; Ashu now pours his ideas, thoughts and problems in a play he directs — Ad Maker. There are no disillusionments, only a thought that he addresses through the play.

On stage: Ashu Sharma & Aditi Khanna
Towards infinity…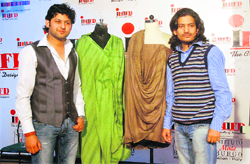 Every fashion student dreams of the applauding crowd, a celebrated showstopper, a front row to write home about. But much before all of that, they dream of taking part in one of the two prestigious fashion weeks. For the INIFD students, Manoj Kumar and Vinod Bhardwaj, it's a debut of their dreams. To say they are excited to be showcasing their collection at the inaugural show of the upcoming Lakme Fashion Week starting on March 2, would be an understatement.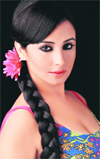 CELEB POINT
The child woman
I have my own fundas in life and the biggest is - be what I am. I've always been called a child woman! Never realised why that was so initially, but gradually I did. The child in me never grew up though I did. I lived in the materialistic world, going about my day-to-day life, reading scripts, shooting, representing brands, being a spokesperson, a strong woman of the world for quite a few. But very few, only those who know me well, know the child in me, who refuses to follow the rules of the world; who has her own mind!
Clock wise
Inventors have come up with a unique alarm clock to get even the heaviest sleeper out of bed. The Ramos Alarm Clock, designed by Paul Sammut, is so stubborn that it won't turn off until the slumbering victim physically leave bed and enter a pin code into a wireless panel to silence the buzzer.
TROUBLE SHOOTER
Highs and lows
I am 30 and live on my own in Chandigarh. I started drinking with my friend. Now, I find that I feel like having a drink daily. I had an occassion when I did not remember what I did that night, though my friends told me that I was behaving alright. Could I be getting dependent on alcohol? I feel I should quit but end up drinking again at night.
Drink to this!
Moderate consumption of coffee - four to five cups of coffee a day - may lower the chances of developing type 2 diabetes compared with those drinking it occasionally or not at all, say researchers.
Classic cut
Striving to be in style while keeping track of the latest trends was earlier considered a prerogative of affluent few who could spare time and money. But now the scenario has changed.  We see professionals too giving attention to their attire so what we get is a deadly combination with brawn and brain. A MBBS graduate, Dr Anshul Mahajan  defines style---
star track
chatter box